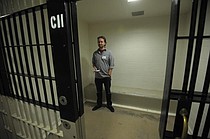 • Twitter - @TylerHayden1
News editor Tyler Hayden started at The Santa Barbara Independent as an intern in the spring of 2009 while studying English and editing at UCSB. He was hired as an associate editor that fall and became the newsroom majordomo soon after. Since then, he's spent his days editing and writing stories, wrangling interns, and helping manage independent.com.
Tyler regularly contributes to a number of Santa Barbara and national news organizations, and he and the Independent's other writers have received multiple awards from Editor & Publisher, the California Newspaper Publishers Association, and the Association of Alternative Newsmedia, most recently for their coverage of the 2014 Isla Vista murders and the 2015 Refugio Oil Spill.
Recent Stories