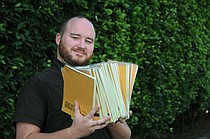 • Twitter - @mattkettmann
Matt Kettmann started at The Independent in 1999, working as a proofreader, news reporter, and pop culture editor before becoming senior editor in 2006.
In addition to covering Santa Barbara affairs for 15-plus years and overseeing Independent.com, the San Jose native and UCSB grad has tracked down stories in such places as Bolivia, Belize, Costa Rica, Uganda, Thailand, Hong Kong, India, France, Spain, Mexico, and the wartorn, officially unrecognized Nagorno-Karabakh Republic between Armenia and Azerbaijan.
He is also a contributing editor for Wine Enthusiast, reviewing the wines and covering the culture of the Central Coast, and has written about a variety of topics for the New York Times, TIME Magazine, Smithsonian, Wine Spectator, Sunset, and other publications large and small.
For more of his work, you can also see MattKettmann.com.
For his wine reviews on Wine Enthusiast, click here.
Recent Stories