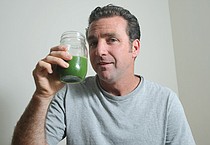 Three-legged dog walks into a bar. Orders a whiskey. Bartender pours the drink and says, "I thought the sheriff told you to be outta town by sundown!" Three-legged dog belts back the whiskey, slams down the shot glass, and says, "I ain't leavin' town till I found out who shot my paw."
Recent Stories
Program Puts Therapists on Every Campus
New program will put at least one therapist on each campus.

Commissioners with State Agency May Reconsider Beach Access Settlement with Santa Barbara County Gated Community
State commissioners are taking a closer look at settlement over beach access to Santa Barbara County gated community.
Temporary Measures Enacted During Peak Fire Season
Temporary measures are enacted during peak fire season.

A Love of Fine Art Informs Home Design
His love of fine art informs his custom-home designs.

Big Turnout Expected at July 13 Meeting in Santa Cruz 
A big turnout is expected at July 13 hearing in Santa Cruz.

County Declares Local Emergency, Fire 5 Percent Contained, 60 to 80 Acres Blackened
Firefighters have achieved 5 percent containment, and the brushfire has burned between 60 and 80 acres.

Tankers Incentivized to Slow Down in Santa Barbara Channel
Program pays tankers to slow down in the Santa Barbara Channel.

No License Required on July 7  
Sport anglers can fish without a license on July 7. 

Extortion Scheme Targets 'High-Profile' Professionals
Extortion scheme targets 'high-profile' professionals. 
Two More Complaints Filed Last Week
Cal Fire and two ranches are suing for damages.