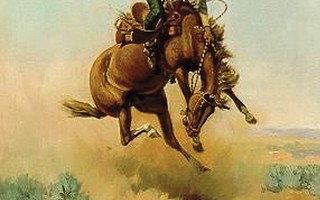 Thursday, September 13, 2018
Joe De Yong (1894-1975) was an artist, illustrator, and writer whose works captured life in the Wild West before and after the turn of the 20th century. De Yong's quest to promote the "cowboy ways" ultimately led to a meeting with the reigning Western artist of the time, Charles M. Russell. De Yong worked with Russell until the latter's death in 1926, after which De Yong moved to Wolf, Wyoming, to work at Eaton Ranch, one of the first "dude" ranches. Later, De Yong moved to Santa Barbara to work with the now-legendary Edward Borein and Maynard Dixon, among others. By the end of his life, De Yong had become a well-known and influential artist.
Santa Ynez author William Reynolds's recent book, Joe De Yong: A Life in the West, details the life and work of the multifaceted artist. Reynolds will discuss his book Thursday, September 13, 5:30-7 p.m., at the S.B. Historical Museum (136 E. De la Guerra St.). Call 966-1601 or see sbhistorical.org.