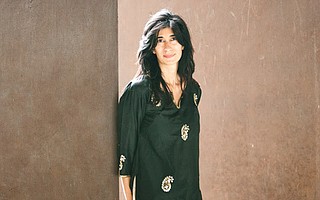 Wednesday, October 24, 2018
With the appointment of Abaseh Mirvali as chief executive officer, head curator, and executive director, the Museum of Contemporary Art Santa Barbara has taken a major step toward realizing its plans to build a new museum in the Funk Zone. Mirvali comes to Santa Barbara with an international reputation for innovative curatorial projects and extensive experience in fundraising for and running large institutions. Although she has focused on independent curation over the past decade, Mirvali was the CEO, executive director, and comisaria of the Biennial of the Americas in Denver in 2013 and served as the executive director of the Colección Jumex and the Fundación Jumex Arte Contemporáneo in Mexico City from 2005 to 2008.
A quick scan of Mirvali's curatorial activities in 2018 reveals what kind of exciting programing is in store for Santa Barbara due to this high-profile appointment. In September, Mirvali organized an exhibit called Solo Expanded as part of viennacontemporary, Austria's top international art fair. Later that same month, she traveled to Turin, Italy, for the launch of a book she created along with three Iranian artists at the Officine Grandi Riparazioni. An expert on the experimental art of Latin America and fluent in multiple languages, Mirvali can be expected to bring her vast network of contemporary artists and curators to bear on her responsibilities at MCASB.
In addition to her prolific activities as a curator, Mirvali has a background in diplomacy that could prove helpful in navigating the complex processes required to construct a significant new building on the Santa Barbara waterfront. She served as senior advisor to the U. S. advisor for culture and education in Mexico early in her career and cites her familiarity with capital campaigns and fundraising as a core competency she brings to the role. MCASB Board President Jacquelyn Klein-Brown praises Mirvali as a "visionary leader and curator whose deep expertise and incredible relationships with artists and institutions around the world will prove invaluable to MCASB."