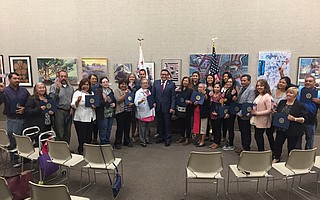 Congressmember Salud Carbajal got emotional Saturday morning at the annual Citizenship Recognition Ceremony in the Santa Barbara Central Library's Faulkner Gallery. "I had a long speech, but it's better to speak from the heart," said Carbajal in Spanish, as he recounted his own journey to becoming a U.S. citizen. The event honored naturalized citizens on the Central Coast who took their citizenship oath between July 2017 and September 2018. "It's a story we have in common," said Carbajal. "We came here with a promise for our kids and future generations."
The U.S. representative is the youngest of seven. His own father immigrated to the United States after the Bracero Program ended in 1964. Carbajal spoke of the difficulty of leaving a homeland to come to a new, faraway place, carrying goals and dreams of something better. "To become a citizen doesn't mean we have to reject our past or our culture," said Carbajal. Instead it means you gain a great nation, great opportunities, and great responsibility, he said. Carbajal encouraged all attendees to register to vote following the reception. The public library had applications ready for anyone interested and invited those that couldn't stay on Saturday to return Tuesday, National Voter Registration Day, when volunteers would be available to assist with the registration process.
Among attendees were sisters Gabriella and Jackie Carachue, ages 20 and 19; they began the naturalization process together about a year ago. "We never thought we were going to be able to do this," Gabriella said, "but we started and we studied and we did it, and it's a big opportunity." The sisters applied for their citizenship with the help of Immigrant Hope. With their newly acquired citizenship, the two are most looking forward to voting and traveling.