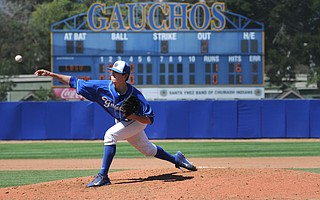 Thursday, October 4, 2018
A blue bag of official L.A. Dodgers peanuts from Hampton Farms sat in my cupboard for several months. I figured I'd snack on them when I got a chance to sit back and watch a game of significance. For the past five years, the Dodgers have been no-shows on regular TV in most Southern California households. (Don't bother complaining; nobody seems to be listening.) They made a few sporadic appearances on national TV or games covered by the Angels' network, but it was not until Monday that I covered myself in peanut shells while taking in the 163rd game of a 162-game season.
It happened because the Dodgers and the Colorado Rockies finished the season in a deadlock atop the National League West standings, and they needed a one-game tiebreaker. Thankfully, the unconscionable SportsNet L.A. blackout ended a day earlier, and all postseason games will be televised on available networks.
Dodger Stadium looked prettier than ever, with puffy clouds decorating deep-blue skies beyond center field. It was the most consequential game there since the 2017 World Series, because to lose would mean risk of elimination in a single wild-card game the next day against the Cubs in Chicago. It would be a test of the Dodgers' grit and resolve, their first step on the road back since their Game 7 collapse in the Series.
They succeeded with an array of old and new faces. Cody Bellinger, maddeningly prone to swinging strikeouts a year ago, smacked a two-run homer, as did Max Muncy (who?), while starting pitcher Walker Buehler (who?) was dominant, and Manny Machado (wasn't he an Oriole?) made nifty plays at shortstop. L.A. led 5-0 in the top of the ninth when the familiar figure of Kenley Jansen strode to the mound. He gave up back-to-back homers before ending it at 5-2, leaving one to wonder whether the Dodgers are destined to go deep into the postseason if people can knock up their closer.
The Dodgers will enjoy a home-field advantage when they take on the Atlanta Braves in the best-of-five Division Championship Series beginning today (Thu., Oct. 4). The Braves have not appeared in the postseason since 2013, when they lost to the Dodgers in the first round. I can't see L.A., winners of six consecutive NL West titles, losing out to the team from the weaker East.
Experience, personified by dogged pitcher Clayton Kershaw, might also favor the Dodgers in the next step, the NL Championship Series, although Milwaukee looked formidable Monday in snatching the Central Division crown from the Cubs. But if L.A. manages to return to the World Series, expect another disappointment.
"Whoever comes out of the American League is going to win the World Series," declared Bill Pintard, who knows something about winning baseball games, having done so 966 times as manager of the Santa Barbara Foresters.
The primary weakness of the Dodgers, Pintard said, is their shaky assortment of middle relief pitchers to serve as a bridge to Jansen, assuming he's going to clean up his act. "They had Brandon Morrow last year," Pintard said. "He went to the Cubs, and they didn't replace him." Perhaps the Dodgers were concerned about Morrow's durability. He sported a 1.47 earned-run-average in Chicago but went out for the season in July because of a succession of injuries, most infamously when he strained his back trying to pull off his pants.
Pintard also is a scout for the New York Yankees, and it grieves him that the Bronx Bombers had a fabulous 100-win season but risked death by wild card Wednesday in a winner-take-all game against the Oakland Athletics. That's because the Boston Red Sox won the AL East with a franchise-record 108 wins. "It the Yankees don't get into the division playoffs, it's a disaster," Pintard said.
As powerful as Boston is, the defending world champion Houston Astros (103 wins) came out No. 1 in the Major League Power Rankings at the end of the regular season. The Red Sox were No. 2, followed by three more AL teams — the Yankees, Oakland, and Cleveland — before the NL's Cubs, Milwaukee, Dodgers, and Atlanta came up, in that order. "Houston is an elite team," Pintard said, "They throw the best pitchers at you."
The Astros will face off against Cleveland, two years removed from its epic World Series against the Cubs. The Indians have a solid starting rotation, but their relief pitching is suspect. That's where Shane Bieber, who earned a role as their fifth starter, may come into play.
Bieber, who displayed "NOT JUSTIN" on his back when the Indians wore nickname jerseys, is one of the year's Cinderella stories. Two years ago, he was UCSB's No. 1 starter in the College World Series, pitching brilliantly despite a 1-0 loss to Oklahoma State. He was not one to make radar guns light up like Dillon Tate, the ace of UCSB's staff the previous year and the first pitcher chosen (fourth overall) in the 2015 draft. Cleveland made Bieber a fourth-round pick (122nd overall) in 2016, stamping him as a middle-of-the-road prospect.
In the minor leagues, as at UCSB, Bieber showed remarkable command of the strike zone — he could go several games without issuing a base on balls — a quality that boosted his surprisingly rapid rise as a professional. "He's always been mature and poised," said Gaucho coach Andrew Checketts, who attended Bieber's Major League debut, a win at Minnesota on May 31. "He's smart; he listens; he's coachable. The Indians have good mentorship in the clubhouse. Knowing Shane, he's absorbed it."
Bieber set a record on September 26, when he pitched six scoreless innings against the Chicago White Sox, allowing two hits with nine strikeouts and two walks. The win made the 23-year-old righthander 7-0 in road games, the most road wins without a loss by a Cleveland pitcher. Overall in his rookie year, Bieber went 11-5 with a 4.55 ERA.
"There's something to be said for guys who know how to win games," Checketts said. "Shane might give up three or four runs, but he hangs on and gives his team a chance to win."
That's the name of the game in October baseball: hanging on against the furies and flukes that make for fans' fascination.