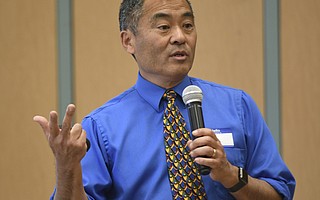 Friday, November 30, 2018
Santa Barbara Unified School District Superintendent Cary Matsuoka spoke of the success of white and Asian students in his State of Our Schools address the morning of November 15. Eighty percent are testing proficient or advanced in English Language Arts (ELA) and 70 percent are testing proficient or advanced in mathematics. Of the secondary-school outcomes, "The results rival the best high schools in California," said Matsuoka before adding that Latino students' low scores represent a polar opposite.
The achievement gap is seen in almost every data metric the district uses, said Matsuoka, and closing the gap at all grade levels is the district's highest priority. In 2018, only 40 percent of Latino students in the district tested at or above proficiency in ELA and only 28 percent reached or surpassed proficiency in math. This is a slight increase from 2015 numbers when 34 percent of Latino students met or exceeded English Language Arts standards and 22 percent met or exceeded standards in math. Both Franklin and Adams elementary schools have seen extraordinary improvements in test scores the last couple of years, Matsuoka noted.
The achievement gap may be further addressed through the competency-based learning model the district is experimenting with. "I'm mindful of how much waiting goes on at schools," said Matsuoka. "Kids waiting for help and kids waiting to get out of class because they figured stuff out months ago." Through the new model, students will get to go at the speed that fits them, said Matsuoka, referring to the model as the future of education.
High school students will also likely see their time in school increase. The district is exploring the possibility of transitioning from a six-period to seven-period day. The extra period will allow high schoolers to access the courses they need, including the new Ethnic Studies graduation requirement, said Matsuoka.