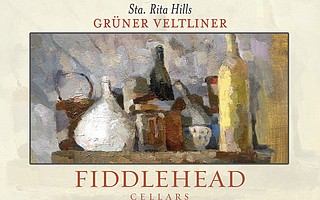 Tuesday, November 27, 2018
While winemaker Kathy Joseph is best known for her work with pinot noir, sauvignon blanc, and sparkling wine, this grüner veltliner — which marks her second vintage of the lovely, tart white varietal originally from Austria — should just add to her acclaim.
Dry as a bone left under the Mojave sun, this wine begs for you to serve it with something rich (seafood in lots of butter?), so it can keep renewing your palate with a laser-beam acid core, minerality, and flavors of grapefruit, white pepper, and a finish of cucumber (almost analogous to the cukes you get in Hendrick's gin).
Let's hear it for locals playing with different varietals, especially in the Sta. Rita Hills, where it's easy to go only Burgundian.