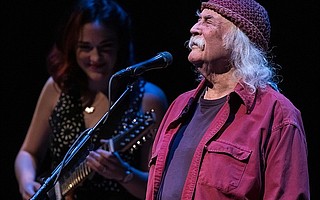 Wednesday, November 14, 2018
It's been quite a year for fans of the great classic rock quartet Crosby, Stills, Nash, and Young, particularly for those who happen to live here. Neil Young played the Lobero for several nights over the summer, Graham Nash stopped by even more recently, and last Thursday, November 8, David Crosby took the Lobero stage with a great group of younger players known as the Lighthouse Band — Michael League, Becca Stevens, and Michelle Willis. The drummer-less quartet performs richly evocative, dreamy folk rock with lots of vocal harmonies and great, sophisticated guitar work. The latter had Crosby a bit tangled up early on, but he soon settled into a groove and seemed to enjoy making droll remarks about both his misspent youth as a Santa Barbara teen and his notorious personal eccentricities ever since.
The night was broken into two sets, with the first centered on songs from Here If You Listen, the album Crosby and his group released in October. Set two delivered some of the numbers that made Crosby and company among the most successful acts of the 1970s, including an exquisite "Guinevere" and a rousing one-two punch encore of Joni Mitchell's "Woodstock" and the Kent State protest song "Ohio." More than five decades in, David Crosby remains a force to be reckoned with in American music, and when he called on the audience to join in on the chorus to "Ohio," it was clear what the '60s were for, man.