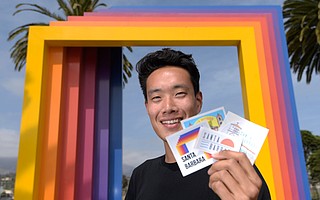 Like so many Santa Barbarans, Gen Matsui wanted to help after the twin December-January disasters. But like so many others, he wrestled with how to do that. "I was trying to think of ways to give back to the community," he said. "I would love to dig out homes every day, but I just don't have time."
So Matsui, a graphic designer, tapped his creative prowess and designed a line of stickers he's selling and from which he's then donating every penny of the proceeds to recovery efforts. The stickers — which go for $1 and $1.50 apiece — depict cleanly stylized Santa Barbara icons, like the Mission, Chromatic Gates, and imagery from our city flag. Matsui is printing them at Goodland Signs in Goleta to keep production local, and he wants to give the funds to the Santa Barbara Bucket Brigade, as well as the Los Padres Forest Association.
Right now you can buy them at the Santa Barbara Company on East Victoria Street, The Blue Door on East Yanonali Street, or Letter Perfect Stationery on Coast Village Road. Matsui encouraged other businesses interested in carrying the stickers to contact him through his website, genmatsui.com. "I'm really excited about these," he said.