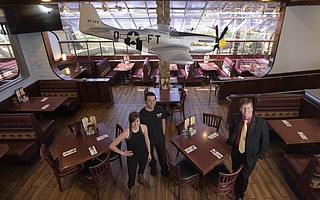 Usually sporting a tie, tucked-in shirt, sport coat, and slacks, Warren Butler is a reliably buttoned-up chap, at least by Santa Barbara standards. But the longtime restaurateur gets rather giddy talking about planes.
"I've always loved airplanes, and I always wanted to be a pilot," said a twinkly-eyed Butler, whose father and sister served in the U.S. Navy. "But you needed to have 20/20 vision and be a lot smarter than me."
Paired with his hospitality career, that translates to an affinity for aviation-themed restaurants, like the Proud Bird near LAX and 94th Aero Squadron at Van Nuys Airport. Both are places where the surrounding visuals and associated clientele are just as compelling as the food and drink. "I just thought that was a great concept," he explained.

Today, Butler is deep in the midst of transforming the former Elephant Bar and current High Sierra Grill & Bar, which overlooks the Santa Barbara Airport, into a restaurant called Flightline. The name is a nod to a 1960s hotspot that existed where the runways now are, and Butler's place is already jam-packed with hanging airplane models, pilot posters, archival photographs, and other memorabilia. It will officially open later this summer, when the signs are installed and finishing touches completed. But Butler has never stopped serving inside, choosing to slowly redecorate the interior while keeping the High Sierra menu pumping over the past couple of months.

"It's gone from an aviation-themed restaurant to surpassing all of my expectations," said Butler. "It's not a museum, but it's museum-esque. It would take 30 years to collect all of this stuff."
The "stuff" is largely from the collection of John and Hazel Blankenship, who amassed a treasure trove of aviation- and war-related materials under the auspices of the Pierre Claeyssens Veterans Foundation. Years ago, they proposed turning the Veterans' Memorial Building on Cabrillo Boulevard into a war museum, but that triggered a political fiasco.
So Flightline is now home to these myriad items. "I'm only taking about a 10th of what he has," said Butler, who's passing on any weapons in order to keep the restaurant a "neutral place" that's focused on aviation rather than war.
Other collectors are contributing as well. The high walls and long shelves of displays — the restaurant is about 10,000 square feet — feature everything from the Santa Barbara visits of Amelia Earhart and Queen Elizabeth II to the old drag races of Steve McQueen and James Dean (his last dash, actually); early S.B. aviation lore involving the Earle Ovington, George Hammond, and Loughead Brothers (later Lockheed); hometown hero veterans from various wars, both alive and passed on; and even the Tuskegee Airmen.
That's just the tip of the iceberg, much of which Butler learned about via a City of Santa Barbara–produced documentary called Above and Beyond. "It's such a great story," said Butler, who's also shining a light on the Guppies and moon lander projects. "I'm gonna run out of wall space."
Originally from Boston, Butler came to Santa Barbara in 2007 after opening and running restaurants for national chains such as Morton's and Bubba Gump Shrimp in Atlanta, Honolulu, Miami, Los Angeles, and elsewhere. He managed the opening of La Arcada's Stateside, which was short-lived, so he went back to chain life by running the Marmalade Café at La Cumbre Plaza.
Powered by Marmalade's catering team, Butler started a series of events centers around town, sprucing up distressed or soon-to-be-redeveloped properties into locations for weddings, corporate parties, quinceañeras, and the like. His leases included the former Downtown Brewing Co. on upper State Street, the former Café del Sol in Montecito, the former Sizzler in Goleta, and what is now Wine Therapy on De la Guerra Plaza. He still runs one at the Timbers in far western Goleta and also produced a television show called What's Cooking with Arthur von Wiesenberger for a number of years. This past January, he started managing the High Sierra Grill & Bar, with plans to eventually take over.
With all that experience, Butler knows that even a well-executed aviation theme will only go so far in keeping the customers coming. "Every single item on the menu I am going to make better and do it more consistently," he said, explaining that he will add more steaks, healthy options, and bar bites. And the long, wraparound bar will remain a centerpiece. "You don't see bars like that anymore," said Butler, who wants to become known for a solid cocktail. "I'm talking heavy pours, like at Joe's and Harry's."
Altogether, he sees Flightline as a dovetailing of his career and passion. "My goal is to make this the best restaurant in Goleta," he pledged. "And you'll be able to walk out feeling that you learned something."
521 Firestone Rd., Goleta; (805) 845-7030; flightlinerestaurant.com.