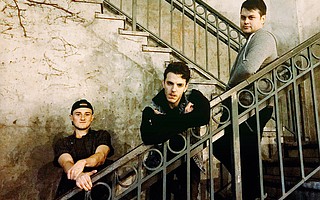 There comes a time in the life of any truly epic band when the possibility of composing a rock opera appears on the group's creative horizon. Likewise, there's a yearning in many a conservatory-trained musical-theater performer to wield the emotional power tools of rock on the stage. With American Idiot, Green Day managed to pull off what rockers and actors alike were jonesing for ​— ​a "punk-rock opera" that's evenly balanced between theatrical storytelling and arena-worthy deep cuts. Asked about the impact of hearing Green Day's songs live and in the context of this production, Out of the Box Theatre's artistic director, Samantha Eve, said that the beauty of using rock in musical theater is that "it can make you feel anything."
Fans of the company's energetic and original productions can look forward to new choreography by Mitch Webb and a seamlessly integrated original video projection by Tim Reiss. Hunter Schwarz (Tunny), Kasey Bryant (Johnny), and Tyler Ledon (Will) are the three amigos who set out to escape suburban Jingletown and make the scene in the city. Only Johnny sticks to the plan, and even he has doubts about "the life," but on their journey the trio, accompanied by Johnny's drug dealing alter-id, St. Jimmy, manage to rock through all of the songs on Green Day's American Idiot, plus some tracks from the band's next record, 21st Century Breakdown.
Billie Joe Armstrong was known to make occasional appearances as St. Jimmy during the show's Broadway run, and although that's not quite as likely to happen at Center Stage, I can promise that audiences will be surprised and delighted by the casting of that role. Joanna Syiek of L.A.'s Color and Light Theatre Ensemble makes her Santa Barbara directorial debut with American Idiot, which runs April 6-15. For tickets and information, see outoftheboxtheatre.org or call the Center Stage box office at 963-0408.