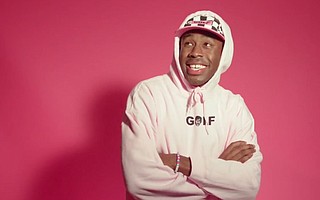 Rap star Tyler, the Creator typically does not grant interviews. So when he agreed to a sit-down chat with UCSB history professor Terence Keel earlier this month, a wave of surprise swept through the student body. Calling him "one of this generation's greatest musical geniuses," Keel welcomed Tyler to the stage. Looking like a campily dressed Disneyland tourist — a bucket hat covering his leopard-print-dyed hair, long white socks, and Teva sandals — the hip-hop artist looked at the sold-out crowd, saying, "I honestly don't know what I'm doing here; I just didn't have anything to do, so I said yes."
Keel and Tyler proceeded to have a detailed conversation about everything from his 2017 Grammy-nominated album, Flower Boy, to the Golf Le Fleur shoe he created with Converse. And although his most recent record is his most successful, Tyler said his third album, Cherry Bomb (2015), is his favorite creation.
Tyler also spent time answering questions from the audience, which included queries about his many achievements — e.g., his record producing, album art, and music videos — throughout his seven years in the spotlight. The event humanized the self-determined artist, who's known for his emotional lyrical content that often deals with loneliness and being an outsider and whom most fans only get to experience through live performances and his tweets. In the end, Tyler came across as just another regular person — albeit one who takes risks and has a talent for illustrating how he feels in catchy hip-hop numbers.