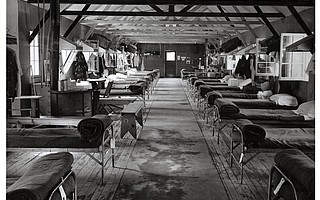 In February 1942, the Japanese Navy shelled Ellwood Oil Field, Japan's first World War II military offensive on the mainland U.S. The attack came days after President Franklin D. Roosevelt had signed Executive Order 9066, enabling both Japanese citizens and U.S. citizens of Japanese descent to be incarcerated for their ethnicity. After Ellwood, Santa Barbara County District Attorney Percy Heckendorf implored, "We want absolute control of aliens and American-born Japanese alike."
This history frames companion exhibits now on display at the S.B. Historical Museum, Only the Oaks Remain: The Story of Tuna Canyon Detention Station and Displaced: The Detention & Internment of Santa Barbarans During WWII. Only the Oaks Remain is a traveling exhibit about a San Fernando Valley waystation that ultimately held more than 2,000 people on their way to internment camps around the country. Many of those whom the U.S. government removed from Santa Barbara passed through Tuna Canyon. Its Japanese and Japanese-American inmates were joined by people of German and Italian descent, as well as people of Japanese descent shipped from Latin America. Through photos, government documents, video testimonies, a digital tour, diaries, and more, the exhibit — by the Tuna Canyon Detention Station Coalition (TCDSC) — animates the space of the camp and the stories of those who were held there.
Displaced bookends Only the Oaks Remain with artifacts such as clothing and handicrafts that focus on the Santa Barbarans who were incarcerated as would-be criminals for their ethnicities during WWII. Given the Supreme Court's recent ruling that immigrants may be detained indefinitely pending deportation, the exhibits remind us that history is continuous, not just the past, and that the arcs of multi-decade or multi-century narratives must constantly be illuminated. "The longer we're silent, the longer nothing will happen," stated Nancy Oda of the TCDSC.
Displaced and Only the Oaks Remain show through May 27 at the S.B. Historical Museum (136 E. De la Guerra St.). Call (805) 966-1601 or visit sbhistorical.org.