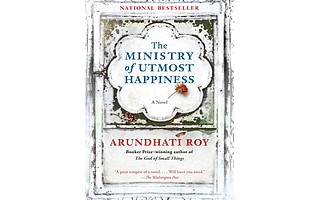 Admirers of Arundhati Roy's critically acclaimed first novel, The God of Small Things, waited 20 years for Roy's second effort, The Ministry of Utmost Happiness, a novel of breathtaking humanity and scope. Roy's diverse cast of characters are not drawn from India's new billionaires or political elites; rather, they are people who dwell on the margins, the outskirts — who live, as Roy puts it, "in the cracks and fissures."
"Even in the most uneventful of lives," Roy writes, "we are called upon to choose our battles." A hermaphrodite who takes up residence in a graveyard, a woman caught between men who themselves are caught in the Kashmir conflict, and an infant abandoned on a dirty sidewalk are only a few of the characters fated to navigate the many contradictions that define India's history, traditions, and politics. In Roy's lyrical, effortless prose, the past is never far removed from the present, nor is sorrow or heartbreak ever far from joy. This interplay is the essence of Roy's work; even in the face of hardship, violence, loss, injustice, and intolerance, her characters persist in seeking joy and love and acceptance.
Like all sublime works of literature, The Ministry of Utmost Happiness not only demands to be read again and again but also is so rich and intricate that it rewards the reader each time.