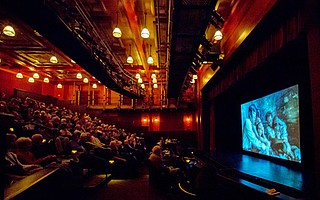 NatureTrack Film Festival
Typically known for its wine-tasting rooms, downtown Los Olivos added film festival locale to its offerings for two days last spring. It was the inauguration of NatureTrack, which screens movies whose subject matter is the outdoors and ecology, among other things. The event was such a success that NatureTrack will return next March 22-29, 2019, and the folks in charge are now accepting film submissions for the sophomore festival. Both long and short films are eligible, as well as live action and animated. The topic categories include adventure, animation, biography, conservation, kids connecting with nature, scenic, student, music video (short only), and outdoors & out of bounds. Submissions are free until August 31 and $10 from September 1 until the final deadline of September 30. Applications are available at filmfreeway.com/NatureTrackFilmFestival.
Ojai Film Festival
For nearly two decades, Ojai has offered up 10 days of cinematic treats each fall, and it will do so again this November 1-11. Currently, the organization is collecting submissions for consideration, but the July 1 deadline is rapidly approaching. Film categories include short or long narrative, short or long documentary, and animation. Screenplays are also accepted. In honor of our region, a full day of the festival is devoted to area filmmakers, called the Gold Coast Screenings. Entry fees are $65 (features), $60 (shorts), and $55 (screenplays). Acceptance notices will go out mid-August. See ojaifilmfestival.com.