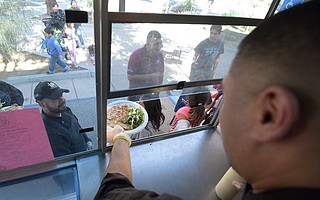 Originally published June 11, 2018 at 03:35p.m., updated June 14, 2018 at 11:30a.m.
School's out, and hungry school kids still have to eat. To meet the needs of children who normally enjoy a daily lunch at school, Foodbank of Santa Barbara County is looking for volunteers to help out with the countywide Picnic in the Park program.
"It takes more than 300 volunteers to make this program successful," said Judith Smith-Meyer, who helps coordinate for the nonprofit, which feeds the more than 60 percent of children in the county who qualify for free or reduced lunches. The program started up on June 11 and runs Monday through Friday until August 10, with volunteers not only helping with lunch but also teaching recipes, nutrition information, crafts, and games.
Any child under the age of 18 can participate in the lunch program, and no income verification is required. This year, three sites in Santa Barbara feed kids downtown at the library, at St. Vincent Gardens, and at Isla Vista Apartments. North County sites include Los Alamos, Guadalupe, Lompoc, and Santa Maria. All 50 sites in the county serving meals as part of this program can be found by texting SUMMERFOOD to 877-877
Individuals interested in helping can contact Foodbank on their website. Groups are asked to call Lisa Skvarla at (805) 403-2471 or by email at lskvarla@foodbanksbc.org. Find the full list of lunch sites below:
South County Picnic in the Park Sites
Santa Barbara Public Library, Santa Barbara
40 East Anapamu St., Santa Barbara
June 11 – Aug. 10, 2018
Lunch 11:30am – 12:30pm, M-F
St. Vincent Gardens, Santa Barbara
4234 Pozzo Circle, Santa Barbara
June 11 – August 10, 2018
Lunch 1 – 2pm, M-F
Isla Vista Apartments, Isla Vista
6660 Abrego Road, Isla Vista
June 11 – August 10, 2018
Lunch: 1 - 2pm, M-F
Mid-County Site: Los Alamos
Los Alamos County Park, Los Alamos
500 Drum Canyon Rd., Los Alamos
June 25 – July 27, 2018
Lunch 12 – 12:30pm, M-TH
North County Sites: Guadalupe
Ranch Acres Apartments, Guadalupe
1050 Escalante Street, Guadalupe
June 11 – Aug. 10, 2018
Lunch 12:40pm − 1:40pm, M-F
Riverview Townhomes, Guadalupe
220 Calle Caesar East Chavez, Guadalupe
June 11 – Aug. 10, 2018
Lunch 1 − 2pm, M-F
College Park Apartments
648 North G Street, Lompoc
June 11 – August 10, 2018
Lunch: 12 -1pm, M-F
La Cañada Elementary – YMCA
621 W. North Ave, Lompoc
June 11 – August 10
Lunch: 11:45am – 12:45pm, M-F
Santa Maria
Grogan Park, Santa Maria
1155 W. Rancho Verde, Santa Maria
June 11 – Aug. 10, 2018
Lunch 12 − 1pm, M-F
Los Adobes de Maria I, Santa Maria
1026 W. Boone St., Santa Maria
June 11 – Aug. 10, 2018
Lunch 12:30 − 1:30pm, M-F
Minami Park, Santa Maria

600 W. Enos Drive, Santa Maria
June 11 – Aug. 10, 2018
Lunch 11am − 12pm, M-F
Rice Park, Santa Maria
700 E. Sunset Ave., Santa Maria
June 11 – Aug. 10, 2018
Lunch 11:40am – 12:40pm, M-F
Russell Park, Santa Maria
NOTE NEW DATES

1000 W. Church Street, Santa Maria
June 18 – Aug. 10, 2018
Lunch 11:20pm − 12:20pm, M-F
Veterans Memorial Park, Santa Maria
545 Pine St., Santa Maria
June 11 – Aug. 10, 2018
Lunch 12 − 1pm, M-F