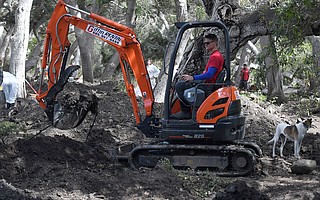 Abe Powell, the leader of the Santa Barbara Bucket Brigade, was in Sacramento on Wednesday to accept a Nonprofit of the Year award on behalf of his vast volunteer network that's been digging out Montecito homes and woodlands damaged by January's deadly storm. The annual event, hosted by the California Association of Nonprofits, calls for nominations from state senators and assemblymembers; Powell's nonprofit was Senator Hannah-Beth Jackson's pick. "Bucket Brigade volunteers [have] stepped up, grabbed shovels, and dug their neighbors out of the mud and debris that had engulfed their homes and property," Jackson said. "The Bucket Brigade is a heartwarming example of community coming together to help one another during a time of need."
The Bucket Brigade started on January 28 with about 60 volunteers, a number that now surpasses 3,000. "It's a huge honor," Powell said about the award. "We appreciate the recognition of our model of disaster response, and we hope the attention can help other communities help themselves when disaster strikes." Powell estimated that volunteers have moved enough mud and debris to fill two million five-gallon buckets.
As the nonprofit nears completion of residential cleanup projects, its focus will transition to creating memorials for the 23 Montecito residents killed by the debris flow, establishing a walking path along North Jameson Lane between Olive Mill and San Ysidro roads, and working with other nonprofits to rebuild washed-out hiking trails. Powell said he will also spend the next several months fine-tuning what he calls the Bucket Brigade's "community self-rescue system" to be more highly organized in terms of volunteer coordination, chain of command, and training. "We're going to be preparing ourselves to do it better if this happens again," he said.