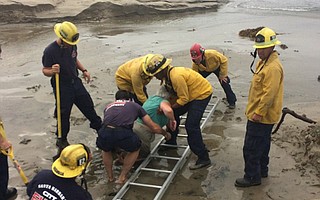 Santa Barbara City Fire Department
Just before 8 a.m. this morning, city firefighters responded to a call about a woman trapped in sand at Garden Street and Cabrillo Boulevard. When crews arrived on-scene, they found a 73 year old female sunk in the sand up to her waist at the mouth of Mission Creek, according to Santa Barbara City Fire Department spokesperson Rich Griguoli.
During initial attempts to stage the rescue, the firefighters themselves became stuck, eventually relying on a roof ladder to stabilize themselves and complete the rescue. After being pulled from the sand and assessed for injuries by paramedics, the freed woman reported being unharmed in the incident. Firefighters backfilled the hole left by the rescue as a safety precaution.
City fire officials attributed the dangerous beach conditions to recent high surf from Hurricane Fabio, which they say pushed water into the river mouth, creating a "quicksand effect." Griguoli asked that the public "use caution when walking on the beach in this area."