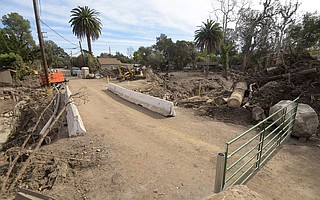 Originally published January 31, 2018 at 02:28p.m., updated February 7, 2018 at 10:33a.m.
In the wake of the destructive flooding of January 9, traffic along Highway 192 through Montecito is expected to go from bad to worse. Six bridges have been damaged, according to Caltrans, and three of them will need to be replaced. The bridges over Montecito, Romero, and Toro Canyon creeks are now gated and "will be closed until further notice to through traffic, except for emergency and utility vehicles," according to a press release. "Detours around these bridges are available via local roads. This traffic control plan will remain in effect until the bridges are reconstructed. The schedule is unknown as plans for permanent restoration are still ongoing."
The Highway 192 bridges over San Ysidro and Toro creeks "will be reduced to one lane and controlled by stop/yield signs," according to Caltrans. "Temporary guardrail will be used to ensure a safe environment for motorists." The damaged bridge over Arroyo Parida Creek, along Highway 192 in Carpinteria, has been a one-way bridge since 2014. It too was hit with mud and boulders during the debris flow and is gated closed. Caltrans will not be fielding bids on its repair until 2020, according to spokesperson Jim Shivers.
Division Chief Kevin Taylor with Montecito Fire said his department has positioned a two-person paramedic-patrol unit east of the damaged bridge over San Ysidro Creek to more rapidly respond to any emergencies in that portion of the district.
Editor's Note: This story was changed on February 7 to reflect updated information about the bridge over Arroyo Parida Creek, and the total number of bridges affected by the flood.