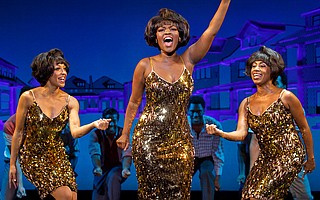 Thursday, January 18, 2018
Theater League's presentation of the Berry Gordy autobiography turned Broadway extravaganza brought the funky beats that launched a generation of music legends to the Granada. Packed with medleys and mash-ups of more than 50 songs from the Motown Records catalog, Motown, directed by Charles Randolph-Wright, is a doting homage to the music and artists that aided in racial integration by breaking into the mainstream entertainment industry in the '60s and '70s. The cast — starring Kenneth Mosley as Gordy and Trenyce as Diana Ross, and featuring performers playing the entire stable of Motown performers, from Smokey Robinson to Rick James to the Jackson Five — presents a series of energetic musical vignettes that ostensibly tells the story of Gordy's rise to prominence.
The highlights of the production were the lively, colorful representations of the Motown sound and its stars; the intermittent dialogue between musical numbers is contrived, and the narrative, which consists of a string of memories from Gordy's life in the music biz, is barely worth paying attention to, but the songs and personalities performing them make up for the inelegant chatter that serves as context for each musical interlude. The music of the Motown catalog speaks for itself, and the high production value and talented cast of Theater League's performance made Motown an engaging retrospective celebrating the social importance of these groundbreaking artists.