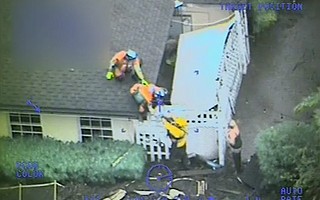 Wednesday, January 10, 2018
On Tuesday, a U.S. Coast Guard Jayhawk helicopter from San Diego rescued a Montecito family of five, including mother, father, their newborn, a seven-year-old son, a three-year-old daughter, and two dogs. The airship is just one of five being used in nonstop search and rescue operations being conducted by air in the aftermath of the Montecito mudslides.
Fifteen fatalities have been confirmed as of Wednesday morning; some 24 are still missing, and rescues by air and land continue. "Our premise is there are still survivable victims out there," said Gary Pitney of the Santa Barbara Fire Department.