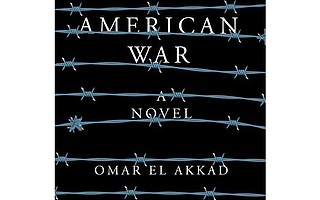 Thursday, January 4, 2018
It was only a matter of time before someone used the massively popular "teenager in dystopia" genre as the point of departure for a novel about the split in contemporary America between red and blue states, and fortunately, it was Omar El Akkad who did. In his fiction debut, the Canadian journalist, who was born in Cairo, raised in Doha, and now resides outside of Portland, Oregon, casts his well-trained eye on what he imagines will be happening in the second half of the 21st century. As you can guess from the book's title, it's not a pretty picture. Sea level rise on the coasts, wildfires rampant in the southwest, and weaponized diseases that kill hundreds of millions are just some of the terrors that plague a nation divided between the federal "blues," headquartered in Columbus, Ohio, and the renegade "reds," who are hunkered down in the South and loosely organized around a second nation-state with its capital in Atlanta.
Told mostly from the perspective of Sarat Chestnut, a teen girl orphaned by the civil war and trained as a rebel fighter by an enigmatic mentor, the book begins as an adventure featuring the classic tough-girl hero, as in The Hunger Games. From there, however, El Akkar lets what he knows about the real impact of civil war from reporting on conflicts in the Middle East and elsewhere plunge the narrative in a darker, more disturbingly believable direction. In the end, the book's emphasis on the centrality of intergenerational bonds during times of crisis forces a difficult question: Can we learn to lead our youth away from the mistakes of the past?