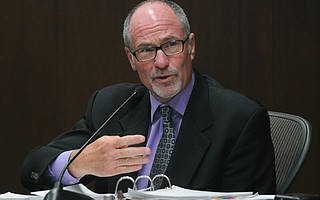 Thursday, February 8, 2018
A week after he clinched the Democratic Party endorsement, Gregg Hart formally announced his candidacy for a seat on the Santa Barbara County Board of Supervisors. Hart decided to run in part because of the catastrophic Thomas Fire and deadly flooding in Montecito, he said. "It's going to require a lot of adjustment from the county both on the fiscal side and on trying to expedite all of these homes and to keep the county on track … from a planning standpoint."
Hart faces Susan Epstein, a Goleta school-board trustee, in the race to represent the 2nd District, which covers the Goleta Valley and parts of the City of Santa Barbara. Campaign finance reports show Hart raised $43,000 in November and December. As of December 31, he had $115,000 cash on hand. Epstein raised about $54,500 through December 31. She also loaned herself $20,000. At the end of the year, she had $67,202 in cash. At a Democratic Central Committee event last week in Buellton, Hart received nearly twice as many votes as Epstein — 19 to 10 — reaching the 60 percent threshold for endorsement. (There were two votes not to endorse either candidate and one abstention.)
After the vote, there were some grumblings that one of the clubs -- Santa Barbara Young Dems -- was officially created just last week to provide an additional vote for Hart. When asked, committee chair Gail Teton-Landis said the party had to cancel its December meeting due to the Thomas Fire. "[It] is unfortunate that our chartering day then fell on the same day as the 2nd district BOS interviews and endorsement," she stated. "We are now reviewing all the chartering of clubs from that night."
Hart was reelected to the Santa Barbara City Council in November, and critics claim he deceptively used that campaign to raise funds for the supervisorial seat. For his part, Hart said Supervisor Janet Wolf told him last year she planned to run again but then changed her mind. He added that he had raised so much money because he thought his council-race opponent Jack Ucciferri was going to be backed by Airbnb.
In addition to two stints on the City Council, Hart works on transportation issues at Santa Barbara County Association of Governments. Asked if he would step down from that role if elected, he said, "Absolutely."
A similar audio interview with Epstein is available here. Mobile users can listen to the audio interview with Hart here.
Editor's Note: The 'Independent' will post a similar audio interview with <a href="https://www.independent.com/news/2018/feb/23/susan-epstein-talks-county-issues/"><em>Epstein</em></a>.