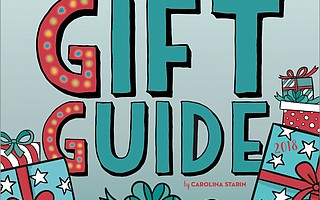 Thursday, December 6, 2018
Shopping locally is gift-giving at its best — not only for perfect presents for your beloveds, but for gifting back to our business and service community.
Here's a shortlist of worthy neighborhood holiday shopping stops, with a focus on stores and products that are owned and/or produced by our Santa Barbara neighbors.
We hope this gives you a taste of the variety of hometown stores and gift options that will come straight from our talented community — and from your merry holiday heart.
And don't forget: The holiday spirit glows brightest when you also set a little something aside for those in need. Happy Holidays!
Read more:
'Tis the Season 2018: Check out Santa Barbara's most complete guide to all the happenings this holiday season.
Funk Zone
Don't wait until a hurried Christmas Eve to browse the gift options in the Funk Zone. Take a pal or two with you when you have time to casually check out the many shop options, and then linger a bit longer to sample the goodies and vintages of the area.
Cutler's Artisan Spirits: Ian Cutler's tasting bar includes a few of his multi-award-winning, hand-crafted spirits, including the new Cold Brew Coffee Liqueur ($40) for the ultimate holiday-morning pick-me-up. Consider including a cocktail kit and a recipe.
137 Anacapa St., Ste. D; cutlersartisan.com
Lighthouse Skate Shop: Great for skate swag and skate services with T-shirts by graphic artists James Carson, Demi, Leah Hamilton, Chris Austin, and Adolescence Wonders ($18.50-$25) and their logo decks ($35).
16 Helena Ave., Ste. B; facebook.com/lighthouseskateshop
The Shopkeepers: Offering what it calls "curious goods for curious people," this shop is packed with Waxing Poetic's sentimental jewelry (charms, $35-$125, waxingpoetic.com) and clothing and accessories, including casual menswear by Santa Barbara–based Saltura (Funk Zone Surf T-shirt, $45, saltura.co).
137 Anacapa St., Ste. A; theshopkeepers-sb.com
Paddle Sport Center: With a mission to provide a meaningful connection to the natural world, this shop offers lifetime memberships ($49 individual/$89 family) and full-moon and sunset paddle excursions. They also offer gift cards, fitness plans, and punch cards for kayaks, SUP, and surfboard rentals at a variety of prices.
117 Harbor Wy., Ste. B, and 5986 Sandspit Rd., Goleta; paddlesportsca.com
State Street
State Street may be home to a revolving door of shops and tourists, but it still holds many of the longest-standing (and newly worthy) stores, and also offers the most diverse shopping experience in Santa Barbara. Here's a list of just a few of them.
Chaucer's Books: Holiday travels and warm fires go best with the friendship of a book. From poetry to cookbooks, naturalist to nonfiction, this mighty bookstore has reigned independent for 44 years. Try The Book of Santa Barbara by photographer Macduff Everton ($50) or Susan Orlean's The Library Book ($28).
3321 State St., chaucersbooks.com
Parker Clay: This little shop offers celebrity-endorsed men's and women's leather goods like the Merkato tote ($168) and the Abeba wallet ($58) that are handmade in Ethiopia, mostly by vulnerable women. CEO Ian Bentley recently told the engaging story of this heartfelt business venture in a TEDxSantaBarbara talk (tedxsantabarbara.com/2018/ian-bentley).
133 E. Anapamu St.; parkerclay.com
Plum Goods: This little store that could carries recycled, fair-trade, and regionally crafted products and recently expanded to include kids' and adult clothing. Try the store's popular, mostly recycled Blue Planet Eyewear (blueplaneteyewear.com) reading glasses ($30) and sunglasses ($40-50). Based in Carpinteria, Blue Planet has donated more than 750,000 pairs of corrective glasses to people in need. Or check out The Art of Feminism art book ($45).
909 State St.; plumgoodsstore.com
Santa Barbara Museum of Art Store: Colorful and intelligent children's toys, such as Pattern Play Puzzles ($39), coupled with humorous and interesting items, including the Classic Lumio lamp ($200, hellolumio.com), adorn this lively gift shop where many of the offerings mimic things you can see in the museum. All proceeds go to support the museum staff salaries and maintenance.
1130 State St.; sbma.net/visit/store
Warbler Records: This funky hole in mid-medina has a frequently stocked dollar bin ($1) and an artful assortment of Christmas albums ($1-$10) sure to get any gift getter in the holiday mood. They also carry rare vinyls and vintage music systems ($200-$400).
131 E. De la Guerra St.;  warblerrecords.com
Montecito
Montecito earns the reputation as a haunt for the haughty, but here's a list of some true holiday angels and elves ready to offer a selection of knockout gifts for the distinguished and discriminating.
The Tennis Shop of Montecito: Tennis and this last-standing tennis shop both share a mutual history of popularity in Santa Barbara. Get a personalized racquet re-string ($44) or stylish active wear like a Travis Matthew Tennis jacket ($130) or shirt ($85) at this full-service boutique.
1187 Coast Village Rd., Ste. 4; tennisshopofwestlake.com
Pierre LaFond Upstairs: Treasures abound at this shop, which offers handmade and one-of-a-kind art, textile, ceramics, and jewelry for the most selective merrymaker. Also featured is a handful of excellent local artists ("Flora," $295, tillytreuren.com; "Lolita," $550, erikacarterart.com).
516 San Ysidro Rd.; shopupstairs.com
Hogue & Co.: This warm-hearted floral boutique run by Santa Barbara native Jerry Peddicord and near-native Kristi Meland offers decorative floral gifts, online bouquet deliveries (White and Green Centerpiece, $85), and full-service arrangements for intimate parties and large events.
525 San Ysidro Rd.; hoguefloral.com
The Nurture Cottage: What more reason would you need to shop at this quaint baby and kid's nonprofit shop offering whimsical toys, baskets, party (and play) clothes, and books than that owner Kathy McCarthy donates all profits to five foundations, including the Bucket Brigade, Girls Inc., and Teddy Bear Cancer. Fluf Organic Canvas Lunch Bag ($32, fluf.ca) and Tutu Du Monde party dress ($178).
1213 Coast Village Rd.; nurturecottagemontecito.com
The Liquor & Wine Grotto: Ask über-knowledgable owners Jason Herrick or Brian Brunello to find something special to get your party started from their impressive selection of rare whiskeys, ports, wines, and so much more. Tequila Dos Artes Blanco ($110) and Tequila Código 1530 Rosa ($68).
1271 Coast Village Rd.; montecitovino.com
Goleta
Goleta keeps gift-giving country with some laid-back shops and destinations aimed to smoothen your rides  ​— ​from boards and bikes to saddles and skates.
Ice in Paradise: Nothing says winter wonderland in Santa Barbara better than bundling up for a day of slipping around a rink. Gift certificates are available for public admission ($8.50 + $3.50 skate rental) or for enrolling in one of their all-levels-of-ability programs, including hockey and figure skating.
6985 Santa Felicia Dr.; iceinparadise.org
Surf Country: Don't let your best betty's jalopy get sloppy; stop by this surfing mainstay for some Mr. Zog's Sex Comb wax ($9) or Dawn Patrol split-toe surf boots ($50). Also available are a selection of skateboards, surfboards, board bags, T-shirts, and flip-flops.
109 S. Fairview Ave.; surfcountry.net
Circle Bar B Guest Ranch & Stables: Give your little cowgirl or cowboy the timeless adventure of a trail ride (1.5 hours, $65/person; 4 hours, $125/person) at this long-standing family-owned ranch.
1800 Refugio Rd.; circlebarb.com
Santa Barbara Gift Baskets: This shop provides a large array of gift baskets with all local items, including brews and wines, Jessica Foster Chocolates, Shaloob beef jerky, other local gourmet foods, and so much more. Make your own basket, or try one of theirs. Cabrillo Crowd Pleaser ($103) and Firestone Brew Crew ($96).
230 Magnolia Ave.; santabarbaragiftbaskets.com
Miss Behavin': Affordable vintage-inspired pieces can be found at this eclectic shop above a bagel café. Cut It Out velvet romper ($45) and The Stones Icon sunglasses ($14).
6551 Trigo Rd., Isla Vista; shopmissbehavin.com
Carpinteria And Beyond
For some totally non-Grinchy vibes, "Carp" just can't be beat. Wander around in the no-stress, beach-breeze downtown in search of the perfect gifts and stocking stuffers.
Heritage Goods & Supply: This upscale farm and ranch shop features all you need for heritage living from area craftspeople, including maker workshops. Smokey Mountain kid's cowboy boots ($52-$62) and Fermentation Kits ($55).
5100 Carpinteria Ave.; heritagegoodsandsupply.com
Carpinteria Foot Spa: This low-fuss, central Carp spa is an oasis for sore feet and shoulders. They offer gift certificates for their $30-for-30-minute walk-in foot and body massages.
977 Linden Ave.; yelp.com/map/carpinteria-foot-spa-carpinteria
Porch: Nature-inspired indoor and outdoor furnishings and clothing adorn this ready-made gift store (Woven bicycle basket, $60). Visit the backyard Airstream pop-up store Folly for handmade California items, including hand-formulated fragrances by celebrated area perfumer Lissa Liggett (St. Barbara $118, lissaliggett.com).
3823 Santa Claus Ln.; porchsb.com
The Mesa
Mesa Bookstore: Browse D.J. Palladino's Mesa gem for rare Santa Barbara books — including signed editions of Thomas Storke's classics — as well as plain old thrillers and nonfiction.
1838 Cliff Dr.; 966-3725
Santa Ynez
Rooted Vine Tours: What better way to spend the day than picnicking and sipping in California wine country? ($140/person).
609 W. Canon Perdido St.; rootedvinetours.com
Ojai
Mark Churchill Ceramics: Materials and clay for these quality handmade stoneware and porcelain dinnerware and vessels are sourced from ranches in Ojai. Mug in Poco Green ($45, markchurchillceramics.com) or sign up for one of his classes at the Ojai Pottery and Clay School ($395 for 10-week session).
212 Fox St., Ojai; ojaipottery.com
Stocking Stuffers
CircaTerra Travel Outfitters: This shop in Loreto Plaza (3317 State St., Ste. A) specializes in travel gear, such as the Freerain 24 Waterproof Packable Backpack ($59.99), and accessories, including Drink Ease homeopathic hangover relief ($12.99) and BioBand Motion Sickness Band ($11.99).
Pharmersea: Locally made beauty products using kelp ingredients.
Cardigans Knit Shop: This adorable little knit shop is guaranteed to give you the warm fuzzies.
Roxanne's: Dedicated quilting shop in Carp offering gifts, patterns, and classes.
Chocolate Maya: Locally made decorative chocolates.
Chocolats du CaliBressan: Locally made French chocolates on State Street.
Ojai Olive Oil Company: Offering award-winning extra-virgin olive oils and flavored balsamic vinegar, along with tours of their olive-oil-making machines.
A Dinner at Cold Spring Tavern: A special night out to remember Santa Barbara's heritage.