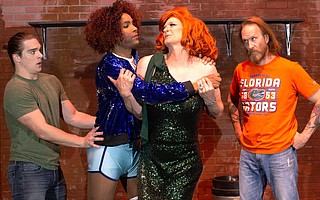 Wednesday, December 5, 2018
We all know that in the 21st century, globalization has made employment unpredictable. Jobs are here today and gone tomorrow, and nowhere is that more the case than in the entertainment industry. In The Legend of Georgia McBride, the new play by Matthew Lopez that opens at Ensemble Theatre Company's New Vic this weekend, the protagonist, Casey (played by Stephen Michael Spencer), has developed a great act as an Elvis Presley impersonator. Casey is a strong Elvis; the only problem is, there's no longer an audience for Elvis impersonations at the Florida panhandle bar where he's been working. A sudden demotion to bartending doesn't make him feel any better, and, thanks to a certain bit of news on the home front, he and his wife, Jo (Keiana Richàrd), are going to be needing every dollar that Casey can earn very soon.
Bar owner Eddie (J. Stephen Brantley) decides to try something new and hires Tracy (Bill Brochtrup) and Rexy (Carlton Byrd) to put on a drag show. These two characters have troubles of their own and have hit the end of the line. The Florida panhandle is hardly West Hollywood, but Tracy and Rexy carry their culture with them and have the chutzpah to go where no cross-dressers have gone before. Egged on by Rexy and mentored by Tracy, Casey comes out from behind the bar and goes back onstage, but he leaves Elvis behind by becoming Georgia McBride. The transformation of Casey into Georgia is hilarious and heart-wrenching by turns, and, in addition to offering loads of fabulous lip-synching numbers, the show reveals the painstaking process of creating a drag persona.
Ensemble casting director Amy Lieberman has done another fantastic job of rounding up talent for what promises to be a refreshing escape from the holiday doldrums. Bill Brochtrup has had a great career in movies and television that includes a 10-year run as police aide John Irvin on the much-beloved NYPD Blue. Stephen Michael Spencer comes from Ashland, where he made his mark at the world-famous Oregon Shakespeare Festival. The formidable and indefatigable director Jenny Sullivan helms this one, with not-so-secret weapon Jamie Torcellini choreographing.
When I spoke with Brochtrup and Spencer in the theater's greenroom after rehearsal, they both praised the script for the way it creates a feeling of family. "It's funny, but it's not silly," said Brochtrup. "It's about the freedom to be who you are, and each of the drag personas is different from the others." For Spencer, who has not performed in drag before, the journey he is on as an actor parallels the one his character goes through. He expressed particular enjoyment in relation to a scene in which his character's wife, Jo, catches him in heels, saying, "Casey has to fess up," with evident glee at the subsequent emotional fireworks.
Brochtrup said that what he admires most about playwright Matthew Lopez is his range, adding that the show — like his character's platform shoes — is something that "hurts your ankles, but has heart." As the title indicates, The Legend of Georgia McBride is a tale, a kind of yarn, and it delivers plenty of feeling along with the laughs. It's also both a drag and a fashion show, as well as a chance for the audience at the New Vic to imagine what it might be like to spend a couple of hours in a seedy Florida panhandle bar checking out some female impersonators. The music goes all the way from the inevitable disco to country, with, of course, a stop at Graceland. Thanks to Ensemble Theatre Company and this fine cast, Santa Barbara will have a holiday on heels.
4•1•1
The Legend of Georgia McBride runs December 6-23 at Ensemble Theatre Company's New Vic (33 W. Victoria St.). For tickets and information, visit ensembletheatre.com or call 965-5400.