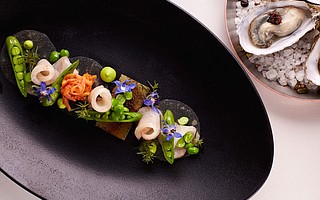 Wednesday, December 5, 2018
When the Hotel Californian opened in September 2017 — after about 20 years of bureaucratic wrangling, project revisions, and financial roller-coaster riding by multiple developers — it sparked well-deserved buzz. Located prominently near the waterfront on both sides of State Street, the hotel serves as Santa Barbara's front door and must occupy some of the most valuable real estate in the world this side of Monaco.
We ran a cover story, travel magazines swooned, tourists arrived on cue, and locals hurried down to see what had become of the decades-old hole-in-the-ground and the original Californian Hotel, whose towering facade had to be saved. Then the furor faded, and many of us went back to lives that rarely frequent that tourist-heavy part of town unless friends are visiting.
It's time we snap out of it. Not only is that stretch of State Street — and the adjacent waterfront district and nearby Funk Zone — more vibrant than ever, but the Hotel Californian is home to one of the best restaurants in Santa Barbara right now, Blackbird, as well as the charming indoor-outdoor café Goat Tree, a perfectly pleasant people-watching place to brunch all day long. And a new, intimate lobby bar called Djinn just opened as well.
"I never wanted to have a fine-dining restaurant," said Chef Alexander La Motte, an Illinois native and University of Wisconsin grad whose impressive résumé of kitchens includes Daniel Boulud in New York City, The French Laundry in Napa, and, most recently, the Four Seasons in San Francisco. "I wanted a place where people felt comfortable and have an elevated food experience, but without the formalities of a fine-dining environment, just breaking those barriers."
Though he spent the last eight years running Four Seasons restaurants, he wanted a very different vibe for Blackbird. "Very few of [the Four Seasons'] restaurants have a feeling of a standalone operation," said La Motte. "But when I came down here, the number-one thing I wanted to do was create a separation between the restaurant and the hotel. We're just a good restaurant that happens to be at the bottom of a hotel. We want to accommodate our guests, but, for example, we don't offer the Blackbird menu for room service. You have to come down and experience it in the way it was intended."
Such intentions focus on a highly creative yet approachable menu that combines exotic or at least rare ingredients with familiar foodstuffs. On recent visits, I've enjoyed avocado and uni toast, with bottarga, pancetta, and seaweed; the green gazpacho with green papaya and vadouvan yogurt that's dramatically poured over a soft-shell crab; corn ravioli with chanterelles, black garbanzos, and broccoli rabe pesto; and grilled octopus with labneh, green charmoula, chorizo, and black lentils. All are visually impressive, texturally compelling, and, most importantly, wipe-the-plate-clean delicious. Some items are also on the menu at Djinn.
Most of these plates are intended for sharing, but those seeking a substantial entrée won't be disappointed either — there's rib eye from Brandt Farm with bone marrow, pistachio crust, potato, and green harissa; diver scallops with a six-minute egg and feta gnocchi; whole roasted fish, often branzino, with dandelion greens, speck, and Buddha's hand citrus; and, for those seeking to spend about $40 on a burger, a Wagyu patty topped with foie gras, pork belly, and raclette cheese. La Motte's cinnamon roast chicken is a hit, based on a recipe he accidentally created as a 2nd grader when he mistakenly used that red spice instead of paprika.
What's impressed me as much as the food is the service, particularly from Kelly Tatro. Employing a deft combination of knowledge, restraint, and intuition, he's able to gently present menu items without bogging them down in the details. He'll offer his advice, and if you want to go deeper, Tatro can home in on each specific ingredient, which demystifies the more obscure flourishes.
That especially helps when navigating the extremely inventive desserts by pastry chef Benjamin Kunert, who uses culinary wizardry to produce items like Strawberry Fields, in which the fruit is complemented by hay semifreddo, white chocolate, stinging nettles, and sorrel sorbet. The cocktails and their far-flung elements also need some breaking down to understand, but they hit all the right flavors marks and span all the primary liquors.  
Since the opening excitement faded, La Motte has been focused on capturing the attention of Santa Barbarans with frequent menu tweaks. "The hard answer is: A little bit all the time," he replied when I asked how often he changes the menu. And we're a pretty diverse group of diners, it seems, with some of us sticking to steak and potatoes, others loving seafood, and many, if not most, digging the shared-plate trend.
"It's very social dining here," said La Motte, who lives in Ventura with his wife and two young kids. "We have groups that come in and have a couple apps and go on to the next place. You see that all over the place around here."
But he's also aware that cultivating a reliable base of customers is critical to survival. "There are some really great establishments here in town, and they have a very strong and loyal following," he said. "That's what I've been trying to do."
While Blackbird has stayed mostly true to its original course, the formula evolved more starkly at Goat Tree, which began as counter service only but quickly became full-service and now serves brunch all day long. "That fast-casual environment has great traction from the locals around here," said La Motte. "We found that, on a daily basis, people were wanting breakfast items past noon. We felt like we might as well just embrace it and do brunch seven days a week. We have people ordering burgers at 7:30 in the morning and people ordering frittatas at 1:30 p.m. And if somebody on a Wednesday wants a mimosa or Bloody Mary at 10:30 a.m., why not?"
Even though it's more casual, the Goat Tree menu reflects La Motte's dedication to expanding our collective culinary mind-set. Visits to both restaurants are educational, and learning about new flavors and techniques is so integral to a complete dining experience in today's hyper-curious foodie world.
"I like to use what's new in the market or interesting, but then use that along with something that is recognizable," said La Motte. "I like different textures, and the sour with the sweet, that whole thing, but I like to do that using as little ingredients as I can." He'll also take a common ingredient, like an onion, prepare it multiple ways — grilled, fried, caramelized, and so forth — and pair it with something more obscure, like a pesto from nasturtium leaves.
"My goal for every dish is that there is something that the person will remember about it," said La Motte. "That's the most challenging thing — how can you make each dish memorable?"
Both restaurants are located on the grounds of the Hotel Californian: 36 State St., (805) 882-0100; thehotelcalifornian.com.