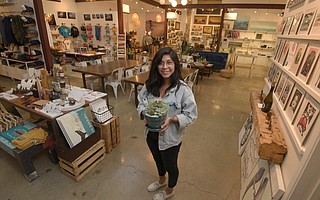 Wednesday, December 5, 2018
It's been a long-running win-win in Santa Barbara: Not only is this town well-populated with truly talented and productive artisans, but it's equally stocked with people who deliberately shop for locally made arts and crafts. While the symbiosis runs year-round, intensity peaks during the holidays, with working hands creating more inventory as discerning shoppers seek out gifts with regional flare. Looking for something special? Look local. For starters, the Indy staff has compiled this quick guide.
This is the 12th season A Crimson Holiday (acrimsonholiday.com) has hosted its artisanal market on upper State Street, this year setting up shop at La Cumbre Plaza across from the Chico's store. It opened early November and runs through the end of January, providing three solid months of a homey shopping experience for wares made by 42 local makers. There's jewelry, wearable art, children's gifts, pet items, personal beauty products, fabric arts, fine art, sea glass crafts, cards, and more. Santa Barbara-area authors are selling their books, too. It's a free, fun, and easy thing, especially when the busy holiday season can feel just the opposite.
While the Santa Barbara Arts and Crafts Show runs every Sunday all year, 10 a.m. to dusk, the Christmas season features an added day for pre-Christmas shopping. This year, that extra day is Saturday, December 22. For 53 years, the waterfront art show, which stretches along Chase Palm Park between Stearns Wharf and Calle César Chavéz, has been a go-to for local and visiting gift shoppers and art collectors drawn to one-of-a-kind wares. Every one of the show's 150 vendors lives in Santa Barbara County and handcrafts each item. As required by the city, they also have to sell their goods in-person, giving the entire beachside stroll the personable feel of a farmers' market. For steady updates, visit facebook.com/sbartsandcrafts.
Yes, the Waterline has food, beer, and wine. And yes, it's one of the hipper Funk Zone haunts, perfect for an afternoon hangout or some nighttime carousing. But it's also an artisan collective of individual studios called Shops@Waterline (formerly The Guilded Table). Above all, it showcases the local craftsmanship that used to abound in that part of town. On hand are clothes by ADKTD Lifestyle, jewelry by Dancing Flame Glass, essential oils from The Grapeseed Company, artwork by Peter Horjus, and a lot more. The vendors are permanent fixtures, but pop-ups are hosted there too, along with workshops that recently taught metalwork and succulent arranging. For more information, visit waterlinesb.com.
Since 2015, the annual Homespun Craft Fair has been hosted in a greenhouse at Dos Pueblos Ranch. The events have gone so well ― almost too well, with lots of cars making their way across the bucolic property ― that organizers are moving it to Casa de la Guerra this year. On December 8, from 10 a.m. to 5 p.m., five dozen vendors will set up shop in the historic downtown space. While many are based here, some are coming from as far away as Texas. Ojai will be well-represented. No matter their home base, they'll be selling only handmade and vintage items, including hats, ceramics, jewelry, clothing, art, and so on. Ojai band The Chillz will play live, and nearby El Paseo wine tasting rooms will offer discounts to shoppers.
For two nights only — December 6-7 — Arlington Plaza's 2nd Annual Christmas Market will set up shop, giving a small plot of downtown Santa Barbara the open-air feel of the traditional European markets that pop up during the holidays. Live music from the Dos Pueblos Jazz Choir will warm the crisp night sky as patrons peruse the decorated plaza's collective of shops and restaurants, including Carlitos Café y Cantina, DIANI Boutique, the Travel Store, Treat, Blossom Salon, Santa Barbara Fine Art, and Renaud's, among others. This season's highlights include traditional Mexican holiday fare, including tamales, churros, and artisanal tequila tastings by Carlitos. Authentic French favorites will be provided by Renaud's. It's free and family friendly. For vendor updates via Instagram, follow @arlingtonplazasb.
A Santa Barbara tradition since 1968, the Yes Store holiday arts and crafts cooperative features unique handmade goods by local artisans, who've transformed this year's space — Paseo Nuevo #101 — with custom displays throughout the pop-up gift gallery. With established Yes Store favorites selling alongside debut artists looking to stand out, it's one-stop shopping for arts, custom fine jewelry, fused and blown glass, photography, ceramics, woodworking, clothing, leathercrafts, and much more from more than 40 vendors. It's open seven days a week through December 24. Vendors are being featured on Instagram: @santabarbarayesstore.
If there's anywhere in Santa Barbara that already feels like Christmas, it's downtown's La Arcada Plaza, now bedecked with lights, ornaments, and a big ol' tree. And if there's anywhere in town that celebrates and promotes local artists all year round, it's the mall's Santa Barbara Arts gallery, filled with paintings, photography, mobiles, silks, and ceramics created by more than 50 different artists. They even offer free gift-wrapping, and there are restaurants all around in case you get close to dropping from shopping.