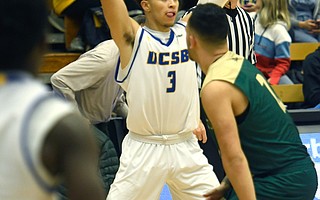 Wednesday, December 5, 2018
Between College Cup soccer nights at UCSB, the Gaucho men's basketball team will host Arkansas-Pine Bluff at the Thunderdome at 7 p.m. on Saturday (Dec. 8). It's a team worth checking out.
The Gauchos took a 5-1 record into their game against Washington in Seattle last Sunday. Washington, an upper-level Pac-12 team, was a 12.5-point favorite, which seemed borne out when the Huskies roared out to a 10-0 lead. But UCSB overcame the early shock and clawed its way back, twice taking the lead in the second half. The score was tied 60-60 with a minute-and-a-half to play when Washington's sophomore star Jaylen Nowell went on a scoring spree to put the game away, 67-63.
Ar'mond Davis, a 6′6″ guard who transferred from Alabama to go into graduate school at UCSB, posted a double-double of 20 points and 10 rebounds against the Huskies. He is a native of Tacoma, WA, as is 6′4″ sophomore JaQuori McLaughlin, another transfer (Oregon State), who is one of UCSB's best defenders.
"Our defense is really good," said Gauchos coach Joe Pasternack. Expect them to be up to the test against Arkansas-Pine Bluff, which has won the year's highest-scoring game in the NCAA, 115-107 over California Baptist in triple overtime.
COLLEGE CUP
UCSB's Harder Stadium is ready for the big show this weekend, the wrap-up of the 60th NCAA Division 1 men's soccer championships. True to upside-down form, a parade of upsets led to the Final Four.
Only one of the top 10–seeded teams — No. 2 Indiana — made it this far. The Hoosiers, making a record 20th appearance in the College Cup, will be favored to raise the trophy for the ninth time Sunday night. But first they must get by Big Ten rival Maryland in the semifinals. The Terrapins have won three titles, the last in 2008.
In the other semifinal, Michigan State, playing in the College Cup for the first time since winning back-to-back titles 50 years ago (1967-68), will go against Akron, which is making its fifth appearance in the last 10 years. The Zips may have a sense of destiny, since they won their only championship in 2010 at Harder Stadium.
SEMIFINALS: FRIDAY, DECEMBER 7
5 p.m.: Akron (14-6-2) vs. Michigan State (14-4-4)
In last week's quarterfinals, Stanford was going for its 15th straight postseason match without allowing a goal — a span of more than 1,400 minutes — when the Zips shattered the Cardinals' invincibility in a big way with a 3-2 victory. Akron features players from 11 different countries, but the winning goal was scored by Colin Biros of Canton, Ohio, after the Zips possessed the ball for some 30 consecutive passes. Marcel Zajac of Ontario, Canada, staked Akron to a 2-0 lead, and after Stanford fought back to tie the score, Biros struck in the 81st minute. David Egbo, a sophomore forward from Nigeria, is Akron's leading scorer on the season with 12 goals.
Michigan State ended several years of frustration in the Elite Eight when it came from behind to defeat James Madison last weekend, 2-1, on a pair of goals by Ryan Sierakowski. The Spartans put up a strong defense in front of Jimmy Hague, the Big Ten goalkeeper of the year in 2017. They received vocal support from their student section, the Red Cedar Rowdies, though a snowball pitched onto the field resulted in an ejection last week.
7:45 p.m.: Indiana (20-2-1) vs. Maryland (11-6-4)
In last year's College Cup final, Indiana lost to Stanford in double overtime, and the Hoosiers have been determined to go all the way this year. They have yet to allow a goal in the NCAA tournament, with a defense that includes senior center back Timmy Mehl, who led Los Angeles Loyola to a CIF state championship in 2014. Sophomore Trey Muse, this year's top Big Ten goalkeeper, made a big save in the first half against Notre Dame, which paved the way for Indiana's 1-0 quarterfinal victory on a goal by Austin Panchot. Trevor Swartz got his NCAA-leading 16th assist on the play. The Hoosiers will be that much more of a threat if sophomore star Justin Rennicks returns from helping the U.S. Under-20 Men's National Team capture the CONCACAF championship with wins over Costa Rica and Mexico last month.
Maryland has also posted three straight shutouts, including a 1-0 victory over No. 3-seeded Kentucky in the quarterfinals. For the third straight match, they scored on their first shot — an 18-yard strike by senior Sebastian Elney off a pass from Amar Sejdic — and a defense led by Donovan Pines made it stand up. In Big Ten play against Indiana this season, the Terps took a 2-1 loss and earned a 1-1 tie. Their coach, Sasho Cirovski, is in his 26th season.
THE FINAL: SUNDAY, DECEMBER 9
The semifinal winners will pair off at 5 p.m. Tickets for all events are available at ucsbgauchos.com. All three games will be televised on ESPNU.
PREP SOCCER BONANZA: In conjunction with the College Cup, the Santa Barbara Showcase will feature 57 high school soccer games Friday afternoon and all day Saturday. Each of the 38 participating teams will play three matches. The Santa Barbara Dons, defending CIF Southern Section champions, face Concord De La Salle at 12:30 p.m. Friday at one of the UCSB Recreation Center's three fields. San Marcos High School will be the site of eight matches, including the host Royals against Warren at 2 p.m. Friday, as well as Santa Barbara playing San Jose's Bellarmine Prep at 10:30 a.m. Saturday. Other strong visiting teams are Servite, Loyola, Capistrano Valley, and Brophy Prep of Phoenix. Carpinteria, Bishop Diego, Cate, and Laguna Blanca will also be hosting games.