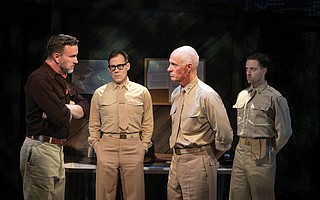 Tuesday, December 4, 2018
South Pacific is set on the front lines of World War II, and the characters are fighting an enemy that threatens their happiness. But it's not the Japanese whose forces they are facing, nor even the Nazis. Rather, it's an insidious force that, in our time, has once again revealed its ugly face: racism.
The Pulitzer Prize–winning Rodgers and Hammerstein musical opened on Broadway just four years after America's victory in the war, but it is anything but triumphant. Instead, it focuses on its characters' internal battles to rise above the prejudices of their society.
Joe Cable, an American lieutenant, falls in love with a young woman from a Pacific island, but he can't imagine bringing her home. Nellie Forbush, a nurse from Arkansas, also falls for a local — a native Frenchman — but can't bring herself to accept the biracial children from his first marriage. In both cases, bigotry blocks bliss.
"It was quite radical in 1949 to understand that racism is a social construct," said Katharine Farmer, who is directing the Rubicon Theatre's new production of the classic show. "As Cable sings in 'You've Got to Be Carefully Taught,' you pass prejudice down to your children. You teach your kids to be scared of difference.… Unfortunately, we are still dealing with the same issues. But it's easier to digest the message when it's presented in a period piece. I hope the show projects the message that we need to be kind, and to be honest with ourselves."
Farmer, who primarily lives and works in her native England, is best known locally as director of Rubicon's acclaimed Nibroc Trilogy. She won an Independent Award for the first show of the three, Last Train to Nibroc, which was set in the American South during World War II. She calls that era "a period of history I'm obsessed with," and South Pacific is giving her a chance to explore it further.
What was your immediate reaction when you were offered the chance to direct this show? I was honored, and slightly daunted. It's such an iconic musical. I was sort of daunted by being a Brit, and what it means to be bringing that to the table. Also, this is my first musical. But [Rubicon producing artistic director] Karyl Lynn Burns framed it as a play with music. It's really about the story and the characters, and themes that I love.
I immediately read the book it is based on, by James Michener. That was my key to understanding that world — what it was like to live in the South Pacific during wartime. I then watched the film, as well as the HBO series The Pacific. Only then did I bury myself in the libretto and the score.
Did you see Bartlett Sher's acclaimed 2008 Broadway revival? Yes, when it came to London. I thought the production really captured the scope of the conflict, the endlessness of war. That production, like most productions, emphasized the beauty of the islands, and juxtaposed war with that beauty.
I'm interested in making this production one that is a bit more realistic — muddy and dirty and sweaty and hot. Our set is going to be made out of found materials — oil barrels, scraps of wood, corrugated iron. Members of the military will move the pieces of the set around in a vain attempt to keep control over the world.
We'll have a constantly rolling projection above the stage, high up, showing the island. You'll be looking at the mess but seeing the palm trees above you. The sun will set and the clouds will roll in. It'll be subtly animated.
So the beauty is just out of reach. Does that mean you're emphasizing the grubbiness of these characters' everyday existence? Yeah. On the small Rubicon stage, you'll feel the claustrophobia of being on one of those small islands — their feeling of isolation, of being away from home. The actors will be so close to the audience, the result should be a bombardment to the senses. When there are 10 men on that stage dancing to "There Is Nothing Like a Dame," it should feel very testosterone-driven.
4•1•1
South Pacific previews December 5-7, opens December 8, and runs through December 23, at the Rubicon Theatre (1006 E. Main St., Ventura). For ticket information, call 667-2900 or see rubicontheatre.org.