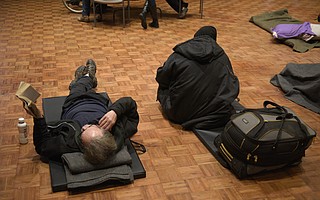 Tuesday, December 4, 2018
PATH Santa Barbara (formerly Casa Esperanza) will be opening its rainy-weather shelter Tuesday evening, and the Freedom Warming Centers will go back into action in North and South County.
The Freedom Warming Centers will be available Tuesday and Wednesday, December 4 and 5, from 6 p.m. to 6 a.m. The North County shelters remain at Lompoc's Peace Lutheran Church (1000 W. Ocean Blvd.) and Santa Maria's Salvation Army (200 W. Cook St.). In South County, they move to Santa Barbara's First United Methodist Church (305 E. Anapamu St.) and Carpinteria Community Church (1111 Vallecito Rd.). Shuttle service from Isla Vista and back again starts at 5:30 p.m. and at 6:15 p.m. Call 324-2372 for up-to-date information.
In the City of Santa Barbara, the PATH shelter (816 Cacique St.) opens its "rain beds" Tuesday through Friday (Dec. 4-7) from 5 p.m. to 9 a.m. PATH will have the space available when the rain forecast is 50 percent or greater two days in a row and when the temperature drops below 40 degrees. Call 884-8481 for information.