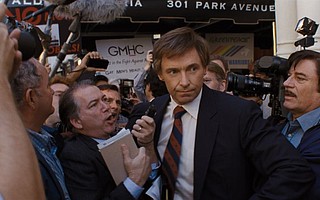 Tuesday, December 4, 2018
On a crisp Monday evening in mid-November, the glitterati gathered at the Bacara for the Santa Barbara International Film Festival's pre-fest fundraiser and tribute celebration. The man of the hour was Hugh Jackman, who is the 2019 recipient of the Kirk Douglas Award, which honors actors who have achieved longevity, esteem, and acclaim in their career.
Jackman walked the red carpet on the arm of his charming wife, Deborra-Lee Furness, gamely answering questions from reporters. Other red-carpet folks included Ben Mendelsohn, a fellow Aussie and Australia costar; J.K. Simmons, who can currently be seen on the big screen with Jackman in The Front Runner; and The Front Runner director Jason Reitman.
The party moved indoors for dinner, which was interspersed with speeches by Mendelsohn and Simmons and film clips spanning Jackman's career. Although a black-tie event, the atmosphere felt informal and even intimate — as if all those strangers attending were family and friends. The actors were relaxed, the mood was light, and the speeches were filled with admiration and mirth for their friend and colleague.
After dessert, Reitman presented the Kirk Douglas award to Jackman, who gave a heartfelt speech that ended with a beautifully worded thank you to Furness, his partner of 22 years.  
Perhaps the most exciting thing about the evening was that it was a precursor to the actual festival — there is much more to come. So far, Glenn Close, Viggo Mortensen, and Melissa McCarthy are confirmed to attend the festival proper, which runs January 30-February 9, 2019. Stay tuned for more announcements over the next two months.