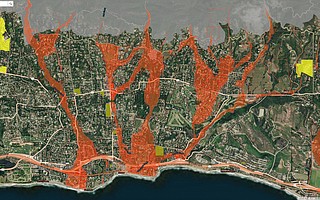 Tuesday, December 4, 2018
The first of three meetings to discuss a new map showing addresses at risk from debris flow takes place Wednesday evening. A warmer and rainier El Niño condition has a 55-80 percent chance of forming through the spring, and Santa Barbara County officials are advising residents downstream of the Thomas, Whittier, and Sherpa fires to inform themselves of their risk and be prepared. The type of cloudburst that triggers a flash flood or debris flow develops very quickly — "with little to no warning," the county states in its press release. Getting out of its way — moving to higher ground, either within the house or very nearby — can be a matter of minutes.
The map, available at the readysbc.org website, is interactive; residents can type in their address to see if they're in a red zone or not. The zones reflect the most current information on the watersheds that drain into Montecito and Carpinteria.
The first meeting takes place in Carpinteria at 5:30 p.m. at the Veterans Memorial Building, 941 Walnut Avenue, with Spanish and sign language translation. A meeting in Spanish, with English translation and childcare provided, will be on Monday, December 10 at 5:30 p.m. at St. Joseph's Catholic Church in Carpinteria, (1532 Linden Ave.). The last meeting is in Montecito, Wednesday, December 12 at 5:30 p.m. at Montecito Union School (385 San Ysidro Rd.). All meetings will be broadcast live at the county's Facebook site and on public access cable Channel 20, and later at the CSBTV20 YouTube channel.
For those without internet access to the map, contact your local fire department: Montecito Fire Protection District, 969-7762; Carpinteria-Summerland Fire District, 566-2450; City of Santa Barbara Fire Department, 965-5254; in Goleta, call County Fire at 681-5500.
The mapping system was developed through a FEMA Hazard Mitigation Grant, which covered 75 percent of the $124,000 total cost.