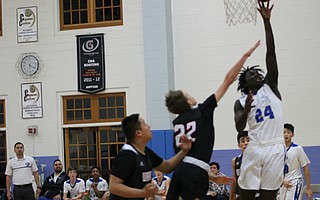 Originally published December 4, 2018 at 10:51p.m., updated December 4, 2018 at 10:57p.m.
A crosstown matchup between visiting Carpinteria and host Cate went down to the wire as the Rams tightened defensively in the fourth quarter to claim a 40-37 come-from-behind victory.
Carpinteria dominated the first two and a half quarters with swarming defense that led to easy opportunities for baskets in transition. The Warriors' lead swelled to 31-16 midway through the third quarter before Cate staged an improbable comeback.
"What I really told them at halftime was take care of the ball and make your free throws," said Cate coach Andy Gil. "In the first half we missed eleven free throws. In the second half as soon as we started taking care of the ball things started working out for us."
Offense was a struggle for both teams in the first half, but a three-pointer by Carpinteria big man Jose Suarez gave the Warriors a 19-12 with just over a minute remaining in the second quarter.
Cate guard Khadim Pouye drilled a pull-up three-pointer with 7:25 remaining in the third quarter, cutting the Rams deficit to 19-15. However, Carpinteria responded with a 12-1 run capped off by an Ian Reed three-pointer with just over three minutes remaining in the third quarter to take a 31-16 lead. Reed finished with a game-high 14 points.
From that point forward Cate stopped turning the ball over and locked in defensively. Carpinteria struggled in the half court offensively and only made one more shot from the field for the remainder of the game, which was a Chris Ramirez corner three-pointer as the final buzzer sounded.
"A lot of it comes down to shooting and we're just not making shots," said Carpinteria coach Corey Adam. "We didn't have as many good looks in the second half tonight, but in both (rivalry) games we had a lot of open shots. We're knocking them down in practice, but or whatever reason we're not knocking them down in the game."
Cate was led offensively by Ethan Ng, who had success attacking the basket and knocked down a pair of three-pointers on his way to a team-high 13 points.
"We were using the screen in the first half, but in the second half we started to mix it up and reject the screen," Ng said. "If the screen was on the right side we'd cross it over and go left and that's how we got open opportunities."
With the victory Cate improved to 2-1 while Carpinteria dropped to 1-4.