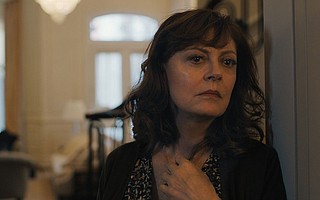 Clearly, what ceases our attention and nudges this well-meaning but uneven film beyond its limitations, is the Sarandon Factor. Susan Sarandon, a great actress not given her do of worthy film roles lately, brings her special balance of embedded strength and compassion, and restrained vulnerability of the sort seen in her Dead Man Walking role.
But another strong presence in the film is an absence in the form of a missing person. Sarandon plays Helen, an emergency room nurse (with a naturally nurturing but steely demeanor in the face of tragedy) whose son, Sam (Matt Bomer) is a freelance journalist who has been kidnapped by ISIS in Syria.
Frustrated by the strategic ineffectuality of official sources, in the FBI and the State Department, Helen consorts with the "Viper Club," an independent group dedicated to the travails of kidnaped and imperiled journalists in war zones. She finds solace in the similar condition of a mother played by Edie (The Sopranos) Falco, also mother of a kidnapped journalist son, and pursues alternate methods of dealing with terrorists. Meanwhile, between emails from the captors and her nerve-jangling negotiations with phantom forces of evil, we see her juggling the day-to-day emergencies and emotional roller coaster of life in the hospital.
Journalism's state and stake in the world is a hot button topic, to be sure. Although director/co-writer Maryam Keshavarz has made an ostensibly fictional film — dealing in an intensely personal way with a global crisis — Viper Club has been roundly criticized by Diane Foley, whose war journalist son James Foley was captured and murdered, for the film's alleged tapping and unfair retelling the Foley family tragedy. Viper Club premiered at the Toronto International Film Festival in September and is making its way to theatrical release now in the shadow of the tragic murder of Washington Post columnist Jamal Khashoggi in Istanbul.
Killing and otherwise terrorizing the messengers is becoming an alarming, continuing reality, a subject worthy of exploration in the realm of cinema. Viper Club may lack coherent dramatic power, but serves as a wake-up call, thanks in no small measure to Sarandon's sturdy magnetism.