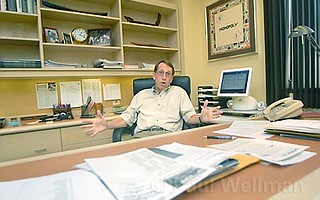 Jerry Beaver, whose name was once synonymous with development in Santa Barbara, died at the age of 86 on Saturday. His real estate signs, Beaver Co. and Beaver-Free (a partnership with Jim Free), had dominated building façades in town, along with that of his company Pacifica Commercial Realty, which he formed in 1969 with Dale Marquis. In 2008, Beaver sold his commercial real estate business to his partners and instead concentrated on his real estate investment business.
"Everyone respected him for being an honest straight-shooter," said Mark Mattingly, managing partner of Pacifica. "If there was ever a conflict in this business and someone needed an ombudsman, they'd go to Jerry. He had a real moral compass; he was a heck of a guy."
Beaver came to Santa Barbara in 1960, with his wife Helene Beaver (née Giljum), who later served on the City Council. He'd served in the Korean War as an officer with the Army Corps, after studying architecture at the University of Colorado at Boulder. Beaver never retired, despite his age, and it was only a fall in 2015 that slowed him down and ultimately led to his death.