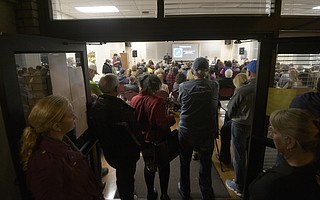 The bubbling controversy over plans to create a homeless village of 40 "tiny houses" at the commuter parking lot by Carrillo and Castillo streets in downtown Santa Barbara cooled off considerably late this past week when it was announced the proposal got only one third the grant funding its backers expected.
Instead of the $6.5 million in emergency homeless relief state funds its backers — the City of Santa Barbara, Cottage Hospital, the Santa Barbara Housing Authority, the PATH homeless shelter, and an Orange County based nonprofit of street outreach workers — sought, the grant application got a recommendation for just $2 million.
That information was still brand new Wednesday evening as supporters and detractors of the project poured into the very packed Louise Lowry Davis Center to speak their piece. As an expression of Santa Barbara's karaoke politics, it was a great meeting. On a wet and rainy evening, there was standing room only. There was also a steady stream of under-the-breath commentary throughout, but with only a few interruptions, shout-outs, and angry personal attacks. Most speakers managed to be passionate, respectful, heart-felt, and thoughtful regardless of their position.
Still, the issue was red hot. News of the proposed village had been first announced only two weeks before. The City Council had endorsed the plan only three days after that announcement. Many were upset by the lack of public engagement and the speed with which things were moving. As a result, feelings were raw. During the course of the two-hour confab, enough lightning bolts got tossed to make Rob Fredericks, executive director of the city Housing Authority and chief proponent of the tiny house concept — sweat and dance.
The $4.5 million question immediately confronting Fredericks now is what he and his fellow collaborators can hope to accomplish on a budget one third the size they'd planned on. With only $2 million, can they afford to keep any "tiny homes" — 128-square-foot mobile homes with wood paneled siding — on the site? And given the intensity of opposition from some of the proposed project's neighbors, is the tiny homes component of the homeless grant proposal too politically radioactive to bother pursuing? And if so, what can they do with the remaining money that would make a difference when it comes to getting the most vulnerable and chronically homeless individuals off city streets? That, after all, was the whole point for the State Legislature when it approved $550 million in onetime emergency funds for homeless relief projects.
As Fredericks repeatedly told the crowd, "With only $2 million, we have to look at what can do." What that is — at this writing — remains uncertain in the extreme.
Many speakers argued that however well-intended, the project does not belong in that neighborhood, which they said is already adversely affected by transients and street people who congregate in the nearby creek channel and freeway underpasses. They get in fights, get drunk, and use front lawns and front-yard bushes to urinate, some speakers complained. Many objected to the "lack of transparency," charging the proposal was sprung on the community with no time for community reflection and response. Many said the bones of the plan might be good, but that it should be located elsewhere. Many favored land owned by the County of Santa Barbara near the campus of social service agencies by the county jail. Richard Berti, long one of the major commercial landlords in downtown Santa Barbara, argued the plan was crafted too hastily in response to onetime state funds. At a City Council meeting two months ago, Berti had offered to donate $100,000 to relocate the homeless from downtown Santa Barbara to county-owned land by the jail. He pointedly wondered why that suggestion had been ignored and charged "many lies" were contained in the current application.
Fredericks of the Housing Authority answered, saying many of the services upon which homeless rely are located downtown, and he argued he did not believe in removing the homeless from the communities in which they reside. He said the Housing Authority currently owns two large low-income housing complexes that serve homeless clientele within a block of the commuter lot in question and that they've never posed a problem for the neighbors. In addition, a 12-bed detox facility is located half a block away; that, too, has not occasioned any community complaints. He also acknowledged the homeless did have an impact on the neighborhood. He said the creation of the tiny house village — at least as proposed — would have brought a bigger police and private security presence to the neighborhood; that, he said, would have addressed some of the problems neighbors say they already have.
Berti wasn't buying that argument. "Would you like 40 to 50 of those people next to your house?" he demanded of Fredericks. "Give me an honest answer."
When Fredericks replied, "Sure," Berti shot back, "You would? Okay, I'll buy your house, and you can move in."
But many speakers supported the proposal. One man — who identified himself as a neighborhood resident, a taxpayer, and a voter, said he felt compelled to testify in favor of the proposal. One woman described how her son died homeless after sustaining a serious head injury. Ben Romo, a well-known player in Santa Barbara political, civic, and government circles, described how he got to know homeless people while working as a parking kiosk attendant as a teen. They kept him company, he said, when he would otherwise have been bored out of his mind. He got to know them as people, not merely as problems. "We can't ship our problem somewhere else," he said. "We have a responsibility to look after our neighbors." Romo argued the neighbors could use the project to leverage increased police patrol services from City Hall. (Some neighbors would say that they didn't wish to live in a neighborhood that needed a heavy police presence.)
Romo was followed immediately on the mic by his former wife, Geordie Armstrong, now a teacher at City College. When told he had three minutes to speak, he joked that his "ex-wife" would have appreciated him limiting his remarks to three minutes. She took exception to the term "ex-wife," noting that she never referred to him as her "ex-husband" but instead as the "the father of their daughter." Both, however, were on the same page in supporting the program. Armstrong noted that she had been homeless herself at times while a teenager growing up in Santa Barbara.
Giving rise to what's been described as a mad scramble of grant proposals to address Santa Barbara's homeless problem was a $550 million bill enacted by the State Legislature this year — Homeless Emergency Aid Program (HEAP) — to deal with what's become a crisis throughout most of coastal California. Although the HEAP funds have been on the horizon since this past spring, the precise terms and conditions guiding local applications were not released by the evaluating county committee until the middle of October. Key details — like the tiny homes in the proposal — reportedly had not been worked out until the end of October. That's when the collaborators reportedly discovered that the "tiny homes" — which in reality are regulated by the state as motor vehicles — could be located on parking lots without triggering all the usual time-consuming design-review hurdles that would otherwise kill this project.
City administrators insist the tiny homes would never have been included had the grant application guidelines not strictly required it. They — and Fredericks — readily admit the project was sprung on the community. They were working out key details until the last possible second. If the City Council wasn't told sooner — and likewise the community at large — they claim, that's why.
Ultimately, there would be 15 applications submitted in Santa Barbara County, totaling $37 million in requests. Only $9 million would be made available to Santa Barbara County applicants. Of the 15 applicants, seven would get nothing at all, based on a ranking process arrived upon last week by the what's called the "Continuum of Care Committee." Among the applicants coming up empty handed was the Santa Barbara County CEO, who asked for $2 million to fund a project strikingly similar in key details to the tiny home village proposal. Unlike the city proposal, however, the county never identified the location where its tiny homes — though only 10, not 40 — would be located.
HEAP grant funding runs for only 30 months. This places a premium on speed and quick turn-around. Applicants not proposing actual housing fared poorly as did those who did not yet have control of an actual site. The Salvation Army scored the largest amount of HEAP funding — $2.5 million — to expand shelter beds for homeless throughout Santa Barbara County.
According to many sources involved in the application process, 22 is the minimum number of tiny homes that the Housing Authority believes the project would need to be both sustainable and effective. The thinking behind the tiny homes is that by housing the most vulnerable, expensive, and service-resistant homeless people — from among the 50 most frequent "high service utilizers," in the bureaucratic parlance — services can be most efficiently funneled their way "to help change the arc of their lives for the better," as Frederick put it. This is known as "the Housing First model." Frederick had initially proposed spending $3 million on the tiny homes. Another million was proposed to pay the Orange County nonprofit City Net to make sure the targeted homeless people population actually got into the new homes. City Net enjoys a reputations somewhere north of aggressive and south of in-your-face when it comes to its outreach efforts. As City Net's Brad Fieldhouse told the crowd Wednesday night, his workers don't allow homeless people to be left alone or to their own devices. They would be constantly reminded of their option to come indoors, he said, and persistently invited to do so.
As part of the plan, Cottage Health was ready to provide at least one nurse to accompany city police working the homeless restorative beat, as part of an effort to bring services to the homeless rather than have the homeless burden Cottage's emergency rooms. Cottage also proposed increasing the number of beds it would provide for respite care — for homeless people recently discharged from Cottage — at the PATH homeless shelter on Cacique Street. PATH was also going to chip in another extra 10 bed spaces. All this combined was supposed to have created a system in which the most vulnerable would get off the streets in a managed, supervised, and temporary setting so they could transition into more permanent housing. One of the questions grumbled not so-quietly by skeptics in the audience was where such housing existed in Santa Barbara.
As the partners in this project ponder their next step, some councilmembers are getting ready to quietly meet with people who actually reside in that neighborhood — as opposed to having strong opinions on the subject — to better plumb neighborhood concerns and what, if anything, could be done to address them should any project be pursued at that site.