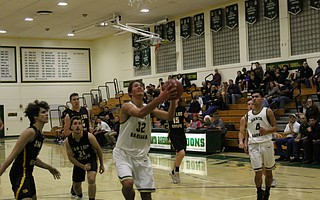 Saturday, December 1, 2018
Offense came easy for the Santa Barbara High boys basketball team in a 96-74 rout of visiting San Luis Obispo on Friday night at J.R. Richards gymnasium.
Five Dons reached double figures, including sophomore Jasper Johnson, who poured in a game-high 19 points. Santa Barbara led 83-48 through three quarters before the Tigers closed the gap in extended garbage time.
"I was expecting it to be a tough game and I was surprised, to be honest with you, that we did as well as we did," said Santa Barbara coach Dave Bregante. "If we shoot the ball like we shot the ball tonight we're going to be awful hard to beat because the first thing that any team that plays us has got to do is stop Bryce (Warrecker)."
Warrecker, A Cal Poly Commit, dominated on both ends of the court, flashing an impressive combination of size and skill. His three-pointer as the first quarter buzzer sounded gave the Dons a 28-12 lead.
Santa Barbara extended its lead t0 48-24 late in the second quarter on a basket inside by Warrecker off an assist from Stephen Davis.
Stephen Davis is the engine that makes us go. He must have had 10 or 12 assist tonight," Bregante said. "He is just magic with the ball and is going to be a really great player."
The Dons extended their lead to 61-31 on an Aiden Douglas three-pointer with just under six minutes remaining in the third quarter. Douglas connected on four three-pointers and Santa Barbara knocked down 13 three-pointers in the game as a team.
Eight straight points by Jasper Johnson capped off by a contested layup that resulted in a three-point play increased the Santa Barbara lead to 80-46 late in the third quarter.
"I think we're starting to slowly come together as a team," Johnson said. "We're going to be pretty good this year and a lot of our guys got going so it's pretty good that we're getting hot this early."
In addition to Johnson's offensive output, Warrercker finished with 17 points, Jackson Hamilton chipped in 15 points and Davis finished with 13 points.
Addison Wright, who scored 16 points, led San Luis Obispo offensively.
The Dons (4-0) will look to continue their hot start to the season at the Simi Valley Tournament next week.