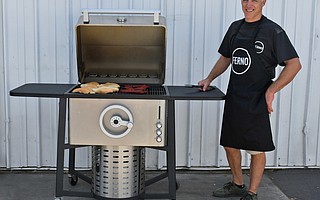 Peck Euwer, a documentary filmmaker, shark attack survivor, and darn good cook, just spent the last five years developing the Rolls-Royce of outdoor gas grills. Sleek, tough, and full of innovation, Ferno Grills picks up where larger manufacturers long ago left off. "There's been zero progress made in grill design over the last 50 years," Euwer explained. "We wanted to change that."
The Ferno's niftiest component is a fire wheel that raises and lowers its burners for better heat and flame control. The simple but remarkably effective feature lets users slow cook meals and stops flare-ups from charring the whole spread. "It really changes everything," said Euwer as he grilled us a lunch of chicken thighs, pasilla chiles, Peruvian beans, and corn on the cob.
Euwer's team obsessed over every detail ― a swing-out gas-tank holder, which makes loading in and hooking up a fresh tank exponentially easier; cast-iron grates that retain heat far better than the stainless steel used by competitors; and sturdy Mapletex counter space, which doubles as removable cutting boards. The two-sided grates feature a flat surface that can turn the grill into a pizza oven, and there's a drop-in smoker box, rounding out the grill's variety of cooking methods. Euwer especially stressed the slow-cook option, which fast and high-burning grills typically don't allow. He's used it make pork shoulders, ribs, and an overnight brisket.
At $4,200, the grills aren't cheap, Euwer admitted. "Even for people who can afford it, it's a change of habit," he said of those who're used to spending a few hundred bucks on a new unit. "We're really targeting cooks whose tools mean something to them, whether it's their range, knives, pots, or pans," he said. And whereas consumers often buy a new grill every few years, Ferno's are built to last. "It's the grill you'll will, we like to say."
It's been quite the journey to get Ferno where it is today, headquartered in an Old Town Goleta warehouse and — after countless prototypes, solved problems, and safety checks — now selling direct to consumers with lots of positive reviews already coming in. It wasn't the most traditional career path, Euwer acknowledged, going from filmmaker to grill guru, but he's got no regrets, and he's thankful for the support. "My wife is a saint for letting me do this," he said. "That's for sure."