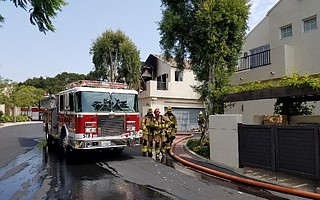 Santa Barbara Fire Department
A smoke detector alerted a woman with mobility issues to a fire in her apartment at 10:30 a.m. on Friday. Four fire engines, a ladder truck, and two battalion chiefs from Santa Barbara City Fire sped over to the Franciscan Villas complex across the street from the Santa Barbara YMCA after a Good Samaritan called 9-1-1 for the woman, who needed a cane to walk, and helped her down the stairs. Fire crews were joined by firefighters from the county and Montecito, and the crews kept the fire confined to the townhome on Greggory Way, though adjoining apartments were evacuated until the danger passed.
No one was injured in the incident. The crews asked SoCal Edison to manage the utilities at the scene, and Red Cross offered assistance to the residents. An investigation is ongoing to determine the cause of the fire. City Fire reminds all to keep smoke detectors up to date and change the batteries when the clocks change.