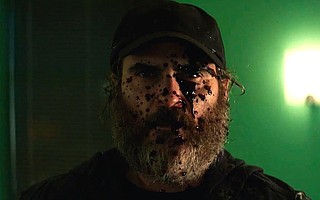 Courtesy of Amazon Studios
Forget noir — this taut, artfully executed psychological thriller is so dark it's nearly Vantablack. Written and directed by Lynne Ramsay (We Need to Talk About Kevin), the film stars Joaquin Phoenix as Joe, a hammer for hire whose latest contract sends him on a rescue op for a politician's missing daughter — and smack-dab in the middle of a sex-trafficking conspiracy. As Joe and the viewer descend deeper into this seedy underworld, things rapidly go from bad to worse to worst nightmarish, and PTSD-induced flashbacks begin bursting through the cracks in Joe's fractured psyche with greater frequency and ferocity. It is from these jarring glimpses into his haunted mind that we begin to fill in some of the blanks of his enigmatic past and present-day motivations.
Despite its familiar Taxi Driver–meets–Taken premise, You Were Never Really Here goes against the grain of the tough-guy/vigilante genre, most notably through Ramsay's elliptical storytelling style, Phoenix's raw and complex performance, and Radiohead guitarist Jonny Greenwood's senses-hammering score. Though it can be an admittedly challenging moviegoing experience due to its sordid subject matter and experimental form, it's ultimately a trip to the dark side worth taking — and one that will linger with you long after the house lights come up.