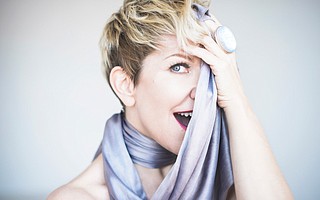 Born and raised in Prairie Village, Kansas, Metropolitan Opera superstar Joyce DiDonato, who will give a recital at the Granada on Sunday, April 15, took an unusual route to the pinnacle of success she has reached in recent years. The mezzo-soprano was not discovered at an early age like some of her contemporaries, but rather had to struggle to find representation and only gained widespread recognition after arduous years of apprenticeship — first as a student at Wichita State and then as a member of the Houston Grand Opera Studio, a development program for young singers. As she told the New York Times' Matthew Gurewitsch in 2010, in those days she felt challenged, saying that "I placed in competitions, but I never won …. I remember thinking in those years: 'No one is going to hand this career to me.'"
While it's true that no one did hand DiDonato's extraordinary career to her, like Cinderella's lucky shoe, when great success did come, it fit her perfectly. Today she is among the most in-demand artists in opera; on Sunday, when she appears here as part of UCSB Arts & Lectures' Marquee series, she will do so on a short break between performances as the lead in Massenet's Cendrillon at the Metropolitan Opera, a role that she has turned into a personal calling card over the past decade. Like the character Cinderella, who DiDonato has described as "somebody who believes in goodness" and who "stays true to herself," the singer's charm lies in the way she harnesses her natural gifts as a vocalist to a broader appreciation of the power of music as a force for positive change in the world. For her recent recording and recital project of baroque arias, In War & Peace, DiDonato chose the subtitle "Harmony Through Music," indicating that her objectives extend beyond the walls of the opera house. DiDonato responded by email to the following questions from the Independent.
You have successfully integrated cultural commentary into your recital programs to an extraordinary degree. What ideas and issues are reflected in your choices for the upcoming recital in Santa Barbara? As it's my debut in Santa Barbara, I wanted to bring a kind of "introductory" program to this new audience, so it's composed of Spanish, French, and Italian music that all show different facets of my repertoire. What I hope the audience leaves with is the reminder of how celebratory and life-affirming music is in our lives — not a bad theme for the current climate in our world!
Moving back and forth between the Met stage and the recital setting must be challenging. What do you do to reorient yourself when you shift from one to the other? I welcome the shift to the recital stage, where the intimacy that is hard to find on an operatic stage is in full abundance. It's a program that I adore, and it's always a welcome gift to meet a new audience and share pieces that I love. There is always a special opportunity to connect to an audience so directly.
How has your In War & Peace project been received? It continues to be received incredibly well. Last year we toured to 20 cities in Europe and North America. This summer we continue in Europe, adding Istanbul and Athens as well. Tours are being planned in Asia, the Middle East, and South America — so my dream of it being a fully international tour is more than coming true. The palpable response by the audience in attendance is something that carries a lot of power, as they seem to internalize the experience deeply, which is my full hope. I'm elated it has just been released on DVD so that anyone can experience it, regardless of our tour schedule.
4·1·1
UCSB's Arts & Lectures presents Joyce DiDonato, with Craig Terry, Sunday, April 15, at The Granada Theatre (1214 State St.). Call 893-3535 or visit artsandlectures.ucsb.edu.