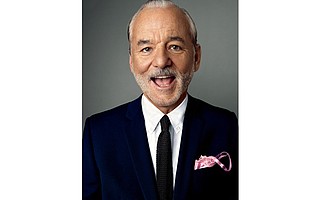 Tuesday, September 26, 2017
By now it's got to be one of the most familiar urban legends of all time. A diner at a restaurant is enjoying a meal and suddenly, out of nowhere, the actor Bill Murray appears, grabs a french fry or two off his or her plate, and, after chowing down, looks the person in the eye and says, "They will never believe you." But you know what's even crazier than the plot of this classic media-era fairy tale? Apparently, it's true. Or at least it's possible, according to Murray, who admits freely to using his fame to have fun with strangers in public places. Although the original Bill Murray french fry story on Reddit is now seven years old, there's since been photographic evidence of the comedian pulling the same stunt at the airport in Martha's Vineyard, and urbandictionary.com lists "Bill Murray story" as a thing, defining it as any story that involves Murray doing something inexplicable and then saying, "No one will believe you."
Well, believe this: Bill Murray will be appearing at the Granada on Friday, October 6, thanks to UCSB Arts & Lectures, which is presenting his Bill Murray, Jan Vogler, & Friends: New Worlds program as part of their Marquee series. Vogler, a world-renowned cellist who has performed with many of the top symphony orchestras, met Murray in first class on a flight from Berlin to New York. The conversation began when Murray asked Vogler if his cello would fit in the overhead compartment. Vogler replied that he didn't know if it would or not, but it didn't matter, as the cello had its own first-class seat. They got to talking, exchanged numbers, and a few weeks later, Murray invited Vogler to accompany him on the annual Poetry Walk Across the Brooklyn Bridge, a fundraiser for Poets House in which people, including many famous poets, gather at the foot of the bridge in Manhattan and stroll to Brooklyn, reciting verse every step of the way. Murray has been an enthusiastic regular at the event for decades, and is known to show up unannounced at such unusual locations as a New York construction site to share his love of poetry with whoever cares to listen.
From that day on the Brooklyn Bridge, things gathered momentum, as Murray and Vogler brainstormed about a touring show that would feature the two of them plus violinist Mira Wang, who is married to Vogler, and pianist Vanessa Perez. The foursome has now recorded an album, also called New Worlds, and will conclude this current run of shows with a grand finale at Carnegie Hall on October 16. Santa Barbara is one of a small handful of other places where Murray is doing this concert performance, and as a result we should consider it a special privilege ​— ​kind of like eating other people's fries, an activity that Murray refers to as "getting bonus potatoes" out of life.
The program, which alternates recitations set to music with songs and instrumental passages, reflects Murray's passion for great American literature, from James Fenimore Cooper and Mark Twain to James Thurber and Lucille Clifton, and Vogler's expansive approach to the classical repertoire. As anyone who remembers his hilarious lounge pianist routine on Saturday Night Live can attest, Murray has an unmistakable singing style, and in this context, he's using it to cover songs by George Gershwin, Leonard Bernstein, and even Van Morrison. The whole thing will inevitably sparkle with Murray's irrepressible appetite for irony and surprise, so watch your plates, and, if the fry thief does happen to strike, know that you are free to tell the story to whomever you like because "no one will believe you."
4·1·1
Bill Murray, Jan Vogler, & Friends: New Worlds is presented by UCSB Arts & Lectures at the Granada Theatre (1214 State St.) on Friday, October 6, at 7 p.m. For tickets and information, see artsandlectures.ucsb.edu or call (805) 893-3535.