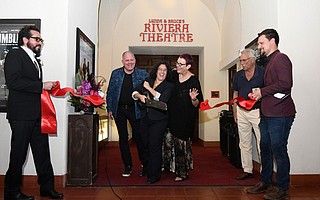 Wednesday, September 13, 2017
For those who have long known, loved, and also lived with the limitations of the Riviera Theatre (at least 40 years for this filmgoer/addict), there was something slightly surreal about Friday afternoon's official reopening of the venue, post-makeover. A small, eager group of boardmembers of the Santa Barbara International Film Festival (SBIFF, which now proudly owns and runs this space), VIPs of various stripes, and press were ushered into the beautifully renovated new space.
Despite romanticized memories of the Riv of old: Vive la différence. Gone is the drafty, if loveably funky, expanse with its questionable sound, and its feline mascot. Enter a cleaner, more glamorous modern cinema ambience, with larger, plush seats (enabled partly by reducing the capacity from 428 to 328), equipped with the all-important cup holders. Most importantly, the theater is rigged with a stunning new projector and sound system comprising a Dolby Vision laser projector and the expansively spatial Dolby Atmos audio system, which takes the output from four to some 50 speakers around the room. The Riviera is now one of only 26 theaters in the U.S. with such technology ​— ​and the only nonprofit so equipped in the country and possibly the world. A screening of Dolby's demo/test reel left the crowd duly dazzled.
Friday's ribbon-cutting, champagne-sipping gala represented an important development in the evolving enterprise of the SBIFF, which based its cinema club here for years and which took over running the theater in 2016. The space has been closed for several months for the $5 million renovation ($2.5 million of which was donated by Lynda Weinman and Bruce Heavin of Lynda.com, hence the new moniker over the theater entrance, "Lynda & Bruce's Riviera Theatre"). Now, the new Riv is up and running, and screening films such as director Jacques Becker's 1960 Le trou (the coolest, most minimalist prison escape movie ever made?), and an acclaimed Native American rock doc, Rumble.
Unfortunately, Friday's gathering of notables ​— ​Mayor Helene Schneider, Weinman and her husband/partner Heavin, ever-present and hands-on SBIFF executive director Roger Durling ​— ​did not include a vitally important figure in the process of making this ambitious project manifest: Michael Towbes, the towering area philanthropist who passed away last spring at 87. As Durling commented in his opening remarks at the ceremony, "It has been a slightly bittersweet day, because Michael Towbes is not here with us, and Michael Towbes was instrumental in delivering this dream."
After Towbes engineered the transfer of the theater from use by Metropolitan Theatres to ownership and oversight by the SBIFF last year, those in and around SBIFF began thinking of in-house improvements. As Weinman explained, "The original idea was to do a bare-minimum remodel, but we kind of decided to scrap that and go for the gold."
Before the ribbon cutting, Schneider pointed out that the renovation project was "a typical Santa Barbara story ​— ​just wanted to do a little project, and then it grows to a gold standard," she said. "Think about what has happened in this neighborhood in the last 10 years, with the restoration of the Riviera campus, which Mr. Towbes envisioned, to bring it back to its glory, and the businesses that are here, as well as the El Encanto [renovation], and the cherry on top, right behind us. I wanted to ask Roger if he bottled the smell of the old theater, which is not there now. That's a good thing."
This grand art house on the hill is now not only a vastly improved place to take in a film; it is also an anchoring haven in the expanding reach and year-round community tentacles of the SBIFF. Between the "new" and improved Riviera Theatre's regular runs of mostly art-house fare and the impressively renovated (and beer-and-wine equipped) Plaza de Oro theatre on Hitchcock Way ​— ​now known as The Hitchcock Cinema & Public House ​— ​Santa Barbara's cred as a serious cinema town has suddenly bumped up several notches. It's the kind of town where, for instance, a world-class film festival has thrived, is thriving, and will continue to thrive.