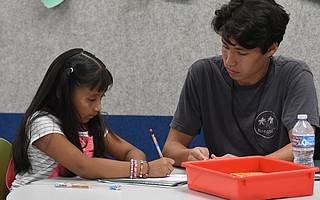 Wednesday, September 13, 2017
The Central Library's popular after-school tutoring program — free to K-6 kids from any school — has expanded to its Eastside and Carpinteria branches this year, offering one-on-one homework help from trained volunteers. The next training session for those interested in volunteering runs 1:00-2:30 p.m. on Saturday, September 16, at the Central Library (40 E. Anapamu St.). The session will identify a volunteer's instructional strengths and possibly match her or him with certain students. "A vast majority of our volunteers are bilingual," said Senior Librarian Molly Wetta. "And our one-on-one structure is shown to be very effective." Since the program launched in 2012, 78 percent of surveyed parents have reported that their kids were doing better in school overall, with greater interest and proficiency, specifically in reading.
Downtown, the afternoon program is offered Monday through Thursday; at the Eastside Library, it's available Tuesdays and Thursdays; and in Carpinteria, on Mondays and Wednesdays. For more information, visit sbplibrary.org.