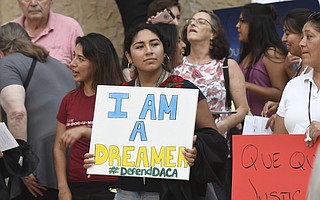 Originally published September 13, 2017 at 11:37a.m., updated September 14, 2017 at 10:54a.m.
Grants to pay the application renewal fee of $495 for students attending California's public colleges and universities under the DACA (Deferred Action for Childhood Arrivals) program are now available, the University of California (UC) announced today. As well, the UC and California's attorney general have filed suit against the Trump administration for terminating the program.
The grant applies to students holding DACA work permits that expire on or before March 5, 2018, and renewals are due October 5, 2017. The Mission Asset Fund, supported by the Weingart Foundation, has given $500,000 for the grant, which is on a first-come, first-to-receive-a-grant basis. Applications can be made at the Fund website, lc4daca.org/, and students are advised to apply for a grant even if they haven't yet completed their DACA renewal application.
The UC filed suit against the Trump administration last Friday, saying that to rescind DACA is "unconstitutional, unjust, and unlawful." UC President Janet Napolitano was secretary of Homeland Security during the Obama administration, which created the DACA program in 2012. In a press release, she stated, "Applicants for DACA were only approved if they were in or had graduated from high school or college, or were in the military or an honorably discharged veteran. They cannot have been convicted of a felony or major misdemeanor or otherwise pose a threat to national security or public safety."
Napolitano also stated that suing the very agency she once led was not taken lightly: "It is imperative, however, that we stand up for these vital members of the UC community. They represent the best of who we are — hard working, resilient and motivated high achievers. To arbitrarily and capriciously end the DACA program, which benefits our country as a whole, is not only unlawful, it is contrary to our national values and bad policy."
About 4,000 DACA students attend the UCs, which have made it clear that students may pay in-state tuition and continue to be covered under the DREAM Act for financial aid. A good number of teachers, researchers, and health-care providers at the UCs are also in the DACA program, Napolitano stated.
The universities are providing legal services and workshops at each campus to help in preparing renewal applications through the campus Undocumented Students Coordinator. At UCSB, the program is run through Associated Students, with information available at the Dream Scholars website. SBCC students can also receive help at the grant website, lc4daca.org/.
Both the UC suit and one filed by state Attorney General Javier Becerra on Monday in the Northern District of California, joined by the AGs of Minnesota, Maryland, and Maine, state that the DACA rollback violates the due process tenets of the Fifth Amendment of the U.S. Constitution. Homeland Security had promised that the information given by DACA applicants would not be used to deport them or prosecute their employers.
The lawsuits also argue that the sweeping changes to the DACA rule, which could affect 800,000 people, go against the federal Administrative Procedure Act, which requires a notification and comment period. This latter argument has also been made against the Obama administration and the implementation of DACA, a lawsuit spearheaded by Texas Attorney General Ken Paxton and joined by 11 other states. Paxton announced on Tuesday that he was dropping the suit, reported Fox Business Network, saying he was satisfied with Trump's actions.
Another lawsuit filed last Wednesday by New York Attorney General Eric Schneiderman and Massachusetts AG Maura Healey now has 16 states and the District of Columbia suing the Trump administration over DACA in the Eastern District of New York, according to The Hill.
This story was updated to reflect Texas Attorney General Ken Paxton's Tuesday decision to drop his DACA lawsuit.