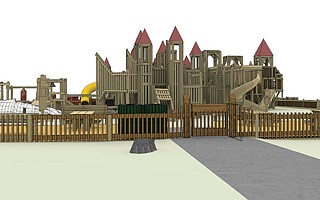 Saturday, September 2, 2017
Popular outdoor playground Kids World in downtown Santa Barbara will close for three and a half months while the entire structure is renovated. Worn wooden posts and boards will be replaced during a deconstruction of the play structure that starts September 5, and reconstructed with building code–compliant hardware. The play area for 2-5 year olds will be improved with better access, gates, security, and rubber pads.
Located in Alameda Park and originally constructed in 1993 as a community project of kids and adults, Kids World's woodsy adventures and head-bumping little-kid aesthetic will remain intact, the city promises. The entire renovation is expected to cost about $650,000. The play structure reopens December 15.