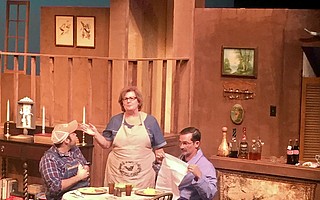 Wednesday, October 25, 2017
Dogstar Theater brings foible and farce to Center Stage with Larry Shue's The Foreigner, featuring Matt Cooper (Froggy LeSuerur) and Justin Davanzo (Charlie Baker) as Brits on vacation at a hunting lodge in the Deep South. The lodge is home to owner Betty (Leslie Ann Story); prospective buyers David (Matt Smith) and Catherine (Ming Lauren Holden); and Catherine's brother, Ellard (Tyler X Koontz). Charlie, in a bout of social anxiety, pretends to be a foreigner who speaks an unrecognizable language to avoid conversation with the other residents during his stay. His plan backfires when Betty, Catherine, and Ellard, fascinated by a romanticized notion of an exotic stranger, take a liking to Charlie and bring him into their confidences. When a plot to get the lodge condemned so it can be purchased for a fraction of its worth is revealed, Charlie, now firmly invested in saving his new friends, plays a pivotal role in a showdown with redneck bully Owen (Van Riker) and the KKK.
The Foreigner plays with well-known, burlesque-style bits, including "are-you-copying-me?" mimicry and an "I would have gotten away with it if it weren't for you kids!" Scooby-Doo ending. It's not a sophisticated piece of writing, and the production suffers from indecisiveness of tone, vacillating between farce and drama. However, Dogstar's Foreigner offers appealing comic portrayals: notably, Holden as Catherine, the bratty ex-debutante in need of a bestie; and Davanzo as Charlie, a sullen stuffed-shirt who finds moments of glory as the "foreigner" by releasing expectations and embracing the absurdity of the situation.