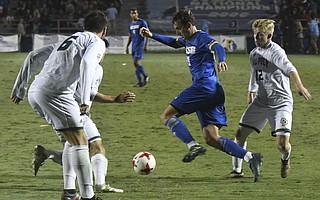 Wednesday, October 18, 2017
Goals in soccer, like home runs in baseball, provide some of the most exhilarating moments in sports. They occur instantaneously in the course of a game where failure to connect is by far more common. Game-winners ramp up the excitement. There was Landon Donovan's last-gasp goal against Algeria in the 2010 World Cup. There were a couple walk-off dingers at Dodger Stadium — Kirk Gibson's in 1988 and Justin Turner's exactly 29 years later — that rated 11 on a scale of 10, given the frenzy that seized normally blasé L.A. fans.
When a soccer match ends 0-0, as the Cal Poly–UCSB contest did last Saturday night, there is one word for it, uttered by Gaucho coach Tim Vom Steeg: "Frustrating."
Scoreless draws can happen at every level of the game, but the idiosyncrasies of college soccer contributed to the bland result before a season-high crowd of 10,293 at UCSB's Harder Stadium. While the rest of the world's teams can replace only three players during a match (excluding exhibitions), college teams enjoy unlimited substitution, shuffling players in and out to keep them fresh.
"At some point, a soccer game opens up," Vom Steeg said. "Fatigue is a factor. But in our game, [if] four guys get tired, send four new guys out there. Every time we attacked, there were seven or eight players sitting in front of us." The Mustangs ganged up on UCSB's most dangerous player, Rodney Michael. He'd normally play the whole game, but Vom Steeg said, "I had to rest Rodney because he's trying to play with two defenders all over him."
UCSB's man of the match was first-year goalkeeper Alan Carrillo, who made several spectacular saves to deny Cal Poly in the second half and overtime.
The Gauchos slipped two points behind UC Davis in the Big West North standings. The Aggies will visit Harder Stadium on Saturday night, October 21.
Other college soccer teams in town are making news.
WESTMONT MEN: The Warriors closed out their regular-season home schedule with a thrilling 2-1 overtime victory over The Master's. Jeremiah Anderson tied the score 1-1 in the 88th minute, and senior Yazi Hernandez knocked in the golden goal three minutes from the end of the second overtime. Westmont, holding down second place in the Golden State Athletic Conference, will host the semifinals and championship of the men's league tournament November 9 and 11.
WESTMONT WOMEN: Ranked no. 8 in the NAIA, Westmont separated itself from The Master's in the GSAC standings by defeating the Mustangs, 5-2. After Maddi Berthoud's fourth goal put the Warriors up 4-2, they earned a penalty kick and put senior Destinee Adams on the stripe to strike the final blow.
UCSB WOMEN: Amanda Ball, the Big West's leading scorer, converted a PK for her ninth goal of the season and the first score of a 3-0 win over Long Beach State. It was UCSB's first victory over the 49ers since 2009. The Gauchos need a winning streak to reach the conference tournament. Their game at Cal State Fullerton on Sunday, October 22, will be televised by ESPN3.
SBCC MEN: The Vaqueros, ranked no. 16 in the state, remained unbeaten (8-0-3) last Friday after a 2-1 win over Oxnard College. Ameyawu Muntari scored the winning goal in the 74th minute, and SBCC had to hold off the Condors with 10 men because Muntari was red-carded for removing his jersey in celebration.
SBCC WOMEN: John Sisterson, coach of both City College teams, is having quite a season. The Vaquero women (10-0-1) are ranked no. 1 in the state and no. 3 in the nation. Their 1-0 decision over Moorpark last week — much more one-sided than the score showed — was their 10th win in a row. They host Ventura at 7 p.m., Friday, October 20, at La Playa Stadium.
DONS HALL OF FAME: Ybarra, a two-time CIF Player of the Year (1975, '76) at Santa Barbara High, is among nine new members who will enter the Dons Athletics Hall of Fame on November 9 at the Cabrillo Arts Pavilion. Others include Lito Garcia, who coached the Dons to CIF titles in both soccer and football, and former NBA star Jamaal Wilkes. Call 284‐3986 or e‐mail donshof@yeolegang.com for info.
Then There's the USA
It was frustrating and embarrassing to see the national men's team lose to Trinidad and Tobago, a setback that knocked it out of the World Cup for the first time since 1986. Christian Pulisic, the 19-year-old phenom who plays in Germany's pro league, was the only American to provide youthful energy.
Vom Steeg said much of the blame falls on USA Soccer for its "closed system" of signing young players to low-level contracts at Major League Soccer academies and preferring they languish in the U.S. rather than challenging themselves overseas. "The difference between MLS and the European experience is relegation and promotion," Vom Steeg said.
In England, for instance, the bottom three teams in the Premier League are demoted at the end of the season and replaced by three teams from the lower Championship League. It's said to be worth $220 million to the promoted clubs. "There's stress and tension with every single team fighting not to be relegated," Vom Steeg said. "MLS has none of that. You finish in last place; who cares."
Rudy Ybarra, director of the Santa Barbara Soccer Club and assistant at Westmont, said flatly that most U.S. players lack the skills and the mentality to play at a high level. "We're selecting athletes who can be physically dominant but have not developed technical skills," he said. "We cannot trap and pass the ball in tight spaces. We can get away with not having clean touches against some countries, but teams like Costa Rica are much better than us. It's hard for me to believe that [the members of the current national team] are the best players in the country."
GAME OF THE WEEK
10/19-10/21: High School Girls Volleyball: San Marcos at Santa Barbara / SB Tournament of Champions San Marcos could clinch the Channel League championship Thursday night against the Dons, the only team to defeat the Royals in the first round of league play. Both teams will return to the floor Friday to face top teams from around the state in the Tournament of Champions. San Marcos opens against Mira Costa at 11 a.m., and Santa Barbara takes on second-seeded Archbishop Mitty of San Jose at 4:30 p.m. The no. 1 team is Torrey Pines of San Diego. Thu.: 6:30pm. Fri.: 11am-7:45pm. Sat.: 9am-5:45pm (championship). J.R. Richards Gym, S.B. High, 700 E. Anapamu St. $3-$5; two-day TOC pass: $10. Call 966-9101 x5010.
S.B. ATHLETIC ROUND TABLE ATHLETES OF THE WEEK
Maddi Berthoud, Westmont soccer
The sophomore put a feather in her hat trick as she scored four goals in a 5-2 victory over The Master's, moving the Warriors to second place in the Golden State Athletic Conference.
Leo Vargas, Carpinteria football
The senior running back piled up a record 315 yards on 22 carries in a 44-12 win over Trinity Classical. He scored six TDs while breaking the school record of 297 yards, set in 1991.